Finally, a real blog! This one is dedicated to one of the best months this year: May.
May is bringing us 3D Dot Game Hero, Red Dead Redemption, Lost Planet 2, Alan Wake, Prince of Persia: Forgotten Sands, Super Mario Galaxy 2, Backbreaker, and ModNation Racers. That's a whole lot of great releases. Sadly, I'm going to just pick and choose the games I'm getting this upcoming month since I need to focus a bit more on school, my incredible music, and finishing my games. If you're wondering which games I'm getting, just read the rest of this blog, stupid.
I've already bought this game. I'm just waiting on Amazon to ship it over. There's already been a few reviews, and basically, it amounts to this: if you love the original Zelda and the older RPGs from the NES era, you'll love this. The game has a lot of possibility as being a cult classic among gamers. You can create your own pixel character from scratch, making his look and his animations. You can even upload the creations, so expect a lot of classics reborn in the engine. Expect a review from this when I'm done.
If you haven't guessed by my adverts for a profile theme, I am dying to play this. I was excited about this before all the news about the multiplayer, but now I'm ecstatic. I didn't think May could come quick enough. If I can only hold out until the 19th, I'll be good to go. Most previews have all stated one thing in common: the game is fun. Ultimately, that's why I play games. Fun factor first, everything else after. I'm also a western fan. In the wild west, according to Hollywood films I've seen, you walk into town, have a few drinks, and start a-shootin'. With a massive co-op gang mode, I'm sure this will hold me over for the year.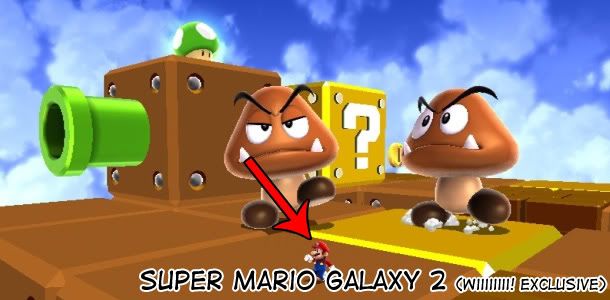 If you own a Wii and don't plan on buying this game (even eventually), then shame on you. I will support Nintendo as long as they keep the adventure games coming and less of the cow milking bull they usually do. Super Mario Cook Off is not a fun idea. Anyway, the original was a blast, and probably one of the best video games ever created (by Nintendo). It was certainly up there with some of my favorite Marios, even taking the place of Super Mario World for me, which is near impossible. With the addition to Yoshi, this should be an interesting game. The game might not be a 'true sequel' in the fashion that not much has changed, but if they can put together a set of completely new levels and some new baddies to stomp, I'm down for whatever.

These are my top three for the month. All the games I mentioned are going to be great. Just a little info on one of the games. You should really check out Backbreaker, at least rent it, because it seems like a perfect idea for a football game. Graphics in sports titles are always cheapened by generic animations. They're not fluid. The way the Madden series is is you're running the ball, that's animation #1, defense comes and tackles you, which jumps into animation #2. It's just that: animations. No real physics involved. Backbreaker is going to touch on animations big time, and I feel it's going to be a killer sports game, hopefully not overlooked. I plan on getting this later, when I have some extra cash.

As always, thanks for reading!


-dryvby