So I heard about a really creepy easter egg yesterday about Nintendo. So basically they had a gameboy camera. You could connect to your gameboy and take pictures. Well one of the menu buttons said run. By clicking it, this would show up.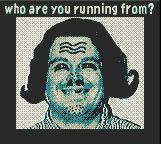 Creepy. This was for kids too. If I had that as a kid, I would have freaked out.
The weirdest Easter egg I encountered was the monkey family in Halo 3. They just sit there. If you shoot at them they bleed.
What are the weirdest Easter eggs you duders have found or heard of?