Best in the series
About this game...
   I had never really appreciated the sheer amount of fun one could have using the Nintendo DS until I came across this game one day surfing IGN. I had always been a staunch PSP fanboy before this game... after I saw a few trailers, deciding that I wanted MKDS, I went to the store and ended up shelling out $150 for the Red Hot DS bundle. I instantly realized the error of my ways. I became a DS fanboy of sorts right then and there, and to this day I play my DS obsessively. If you haven't played the game, you're probably asking yourself right now, "Can one game be so good as to convert fanboys to another system"? Well, you probably aren't asking yourself that, as there have been plenty of games in recent memory that have proven beyond reasonable doubt that even the staunchest of fanboys can be converted, but I'm going to go ahead and answer my own question anyway with my review.    
Well, get on with it! Hows the game look?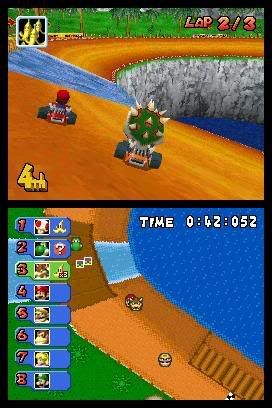 Well, when I started playing this game, I thought the graphics were pretty nice. After all this time they still hold up when compared to other DS games... despite terrible character models, everything else in the game looks good, or better. Certain stages are more detailed than others... you can't, for example, compare Waluigi Pinball, a massive, spectacular looking pinball stage with four large flippers, bumpers, reflective tracks, and giant rolling pinballs, to Choco Island 2, a faithful yet badly-textured and blocky rendition of one of the stages in the SNES classic. But all of the stages still look good nonetheless, and all of the retro stages look almost exactly like their console (or handheld, in the case of Mario Kart: Super Circuit) renditions. The items look decent. Some of the items (namely all of the sprited ones) look good from afar but are pretty ugly up close. All of the 3d items look nice though, and its always cool to see a Blue Shell or a Bullet Bill fly past you (or hit you, that's not so cool). Now, the game's interface is... basic. Touch a menu, go to the next. It's simple, but it gets the job done. Something I really like, is the use of the touch screen during a race - the bottom screen works as a map which you can use to scout for shortcuts, check where obstacles and opponents are placed, and even check out what items your opponents have at the moment. As for the music... it's really good. This was one of the game's stronger points. All of the remade stages, except for maybe Baby Park, have music that sounds just like the original scores. And all of the new stages have music that fits each stage perfectly. And its all fantastic! I've played Waluigi Pinball before just to hear that awesome musical score. The sound effects are great, and each is perfect for its situation - it's pretty cool to hear pinballs or Blue Shells whiz by you in the heat of a race. Overall, its fantastic for an early release, and even right now the graphics and sound are better than some newer titles.    
Okay, so it looks good... hows it control?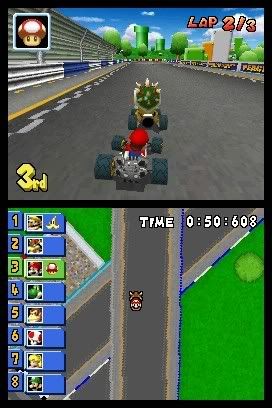 Simply, and easily. A to accelerate, B to brake. If you've got big hands, you can use X to shoot weapons. If you're some kind of smurf person like Anthony and can't reach the X button, you can use the L button instead. Those buttons alone won't get you through a race, however - the R button is put to use as maybe the most important button in the game. You use the R button to hop into the air and drift, which allows you to take turns easier without losing speed. I cannot stress enough how important drifting is. It is perhaps the greatest addition to Mario Kart yet (well, actually, the other titles used it, but to a lesser extent). Drifting can make or break a race. Along with drifting is the turbo boost. Introduced in MK64, the turbo boost was used in previous titles to give you an unfathomably small boost of speed during a race. Well, in this game, if you use a turbo boost, you can go flying forward as opposed to the tiny little push you would get in the previous games (that is, if you chose a light kart with good acceleration). A turbo boost is pulled off by drifting and then pressing left and right on the D-pad twice in succession, starting up a brilliant shower of red sparks that become blue when the turbo boost is ready to be performed. If you can string these together (which is hard at first but becomes very easy) you can become great at this game. I'd say this game has some of the best controls for any handheld racing game I've ever played. My only gripe is that on the original DS model, it'll cramp your hands up pretty bad. But hey, what game doesn't when played on that enormous hunk of plastic? I kid, I kid. (Hell no I don't)    
So, is the gameplay any good?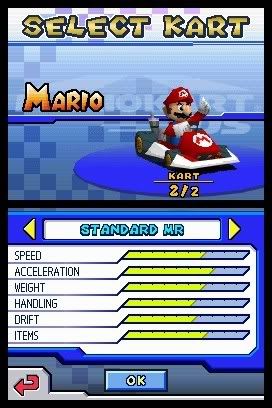 It's fantastic! This is where the game shines! Twice as many stages to choose from than any other Mario Kart game, a mission mode, 8-player multi... it just doesn't get any better than this! The selection of stages, albeit with less shortcuts than in previous titles, is better than ever, with 16 brand new stages to choose from, and 16 stages from previous Mario Kart games including Double Dash, 64, Super Circuit, and even the original Super Mario Kart! The missions are pretty nice, although once you beat them once you'll probably never go back to them... still a good feature nonetheless, and definitely deserves a playthrough. This game will challenge you with 8 cups (Four 'Retro Cups', and Four 'Nitro Cups') to beat. That's twice as many cups as the previous 3D entries in the series offered, and with 4 speed modes to choose from... well, that's a lot of racing to be done before the game is completed. Each time you complete a cup you'll be rated on your performance (* * * being the best, E the worst), and if you did well enough, you'll unlock the next cup. And even when you've beat them all, you'll wanna go back and play 'em again just to get a higher rating. Sure, the single player mode is fun... but the multiplayer is where this game really shines. 4 brand new battle stages, with 2 more pulled from previous Mario Kart games, along with 8 player support, makes the battle mode a blast. There's also a new mode, Shine Runner, which is similar to the Shine Battle from Double Dash, which challenges you to steal Shine Sprites from the battlefield or steal them from your opponent in an elimination-style timed battle. And the racing is better than ever, with the addition of Nintendo WiFi support. You can now, through a WiFi hotspot, play against up to three other opponents anywhere around the world at any time. There are some gripes about the Wifi support in this game, though... absolutely no Battle mode or Shine Runner mode. Its all racing. Which isn't bad, but then you don't even get the full 32 stages in Wifi mode... just 20 of them. Still, its pretty good for a first effort, and still quite playable.    
So, your final thoughts?
   Mario Kart DS is a very good choice for people who just got a DS or are looking for a good racing game. Or any game, for that matter. Widely believed to be the best entry in the Mario Kart series, any self-respecting DS owner should have this game in their collection. And if you don't, go out and buy it now. You'll be happy with the purchase. If you aren't... well then there's just no hope for you.