By now I'm sure most of you have seen the infamous Modern Warfare 2 image (see below) where gamers who were part of a modern warfare 2 boycott list were seen playing the game once it released. This was clearly a case of some gamers complaining loudly about something then turning around and forgetting to vote with their wallets.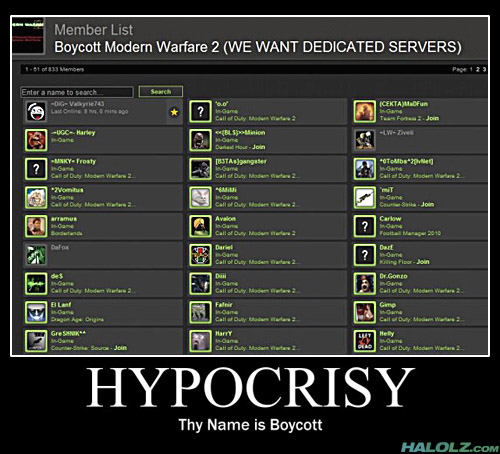 In the same year we had the kerfuffle over left 4 dead 2 but shockingly the game went on to sell just as well if not better than the first game.
This year we had the complaints over day one DLC in Mass Effect 3 and this week EA and Gamestop reported that sales of day one DLC were very impressive. From the Eurogamer story( http://www.eurogamer.net/articles/2012-03-09-ea-ships-3-5-million-copies-of-mass-effect-3-around-the-world)
'US giant GameStop saw 40 per cent of day one customers also buy a download code for the day one DLC From Ashes. "The tie ratio at the register is the highest in their history," Riccitiello said.'
Wow 40%, those are some really impressive numbers which could even be higher given we don't know how many people bought the DLC online.
It is almost creepy how the same pattern seems to repeat itself. Granted the people who complained could have stuck to their guns and not bought the DLC and these sales are just from walk-ins to Gamestop, but that's highly unlikely.
So what do you guys think? Are gamer 'boycotts' and complaints relevant if people don't vote with their wallets? Gamers' actions seem to speak louder than their words in these scenarios and it seems that companies will keep pushing the bounds of what is acceptable.
In a weird way I feel these boycotts actually help boost a game's sales. They get people talking about the game and as a result casual outsiders may be inclined to check out the game.