Buy Me Some Peanuts and Crackerjacks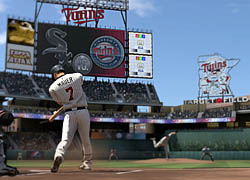 In honor of the Yankees' home opener this week, I felt it would be fitting to take a look at the premiere baseball series out there. Of course, I am talking about the PS3 exclusive,
MLB: The Show
, and it's latest edition,
MLB 10: The Show
.
It would have been easy for Sony to sit back, update some rosters, get a new cover athlete, and ship out the best baseball game that is available for purchase on any system, but they had a different idea in mind. Listening to some of their critics and fashioning a few new ideas of their own, there are two new key modes that have been added to the
MLB 10: The Show
.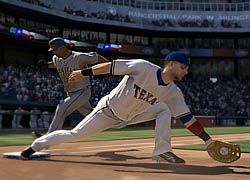 The first new addition is something fans have been clamoring about since the first inception of
The Show
and that is a Home Run Derby mode. Set up in your standard three rounds with a limited number of outs, the Home Run Derby has been a staple of America's pastime for decades and was a favorite feature of many fans of what are considered some of the best baseball games of all-time. The addition of this alone raises the level of
The Show
to an entirely new stratosphere.
But, Sony wasn't done. Included with Home Run Derby and their standby "Franchise" and "Road to the Show" modes where you can take control of your favorite MLB club or create an individual and try to have him rise through the AA, AAA, and MLB ranks, they have added the new "Catcher mode". Not only can you select the pitch and location now, but deal with the frustration of having your diva number one starter shake you off three or four times. Or maybe that's just me. I said throw the heat!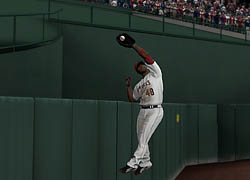 Whatever mode you decide to play, it is easily the most realistic baseball experience you can expect on a console. The A.I. adapts and changes to the moves you make on even the easiest of difficulties and challenges you at every turn. Although frustrating at times, it shows how far baseball games have come and that there are no glitches in the A.I. where a low and outside fastball will always be swung and missed on or every seventh pitch will be a meatball that you can belt out of the park is a huge accomplishment.
Not to say the game is without glitches. Already Sony has had to release two patches for
The Show
and the game still freezes at some of the most inopportune times. Aside from this though, the game is relatively flawless.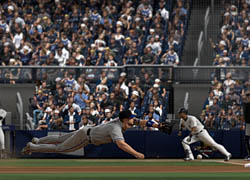 The game doesn't just wow you with gameplay though. The graphics are tremendous and take full advantage of the power of the PS3. Add in great play-by-play from Matt Vasgersian and color by Dave "Soup" Campbell and Rex Hudler and the peripherals are near top of the line. I could've used a larger music playlist on the menus considering how much time I spend tweaking my franchise (I'm a virtual George Steinbrenner, very much a hands-on owner).
With all these game modes and the high quality of play, if you're a baseball fan, you'll have plenty to keep you coming back for more here. Throw in a revamped online multiplayer and matching system and this is probably the pinnacle of baseball games. My only other knock on this game is that Joe Mauer is the cover boy. Come on Sony! The Twins?! The Yanks are the defending champs!
Ratings are based on a scale of 1 to 10 with 10 being the best.
Graphics: 9.5:
A few stray polygons here and there are noticeable and shock you out of your simulation revelry, but not enough to keep this from being a top-notch gaming experience.
Audio: 9.0:
From the crack of the bat to the roar of the crowd, the SFX are perfect. Vasgerian, Campbell, and Hudler all sound great and don't repeat themselves as often as you see in most other sports simulations. The only knock is that I could have used a lot more music on my menus as I tweak the defending World Champs as they move on their way to back-to-back titles!
Plot/Plot Development: N/A:
It's a sports simulation.
Gameplay: 9.0:
A couple of glitches keep this from being a perfect score, but Sony is usually right on top of their patches, and with two already being released, I'm sure the few times the game tends to freeze will be fixed in no time at all.
Replay Value: 10.0:
A must have for baseball fans. The revamped online matching is a huge bonus, but when you throw in the new Catcher and Home Run Derby modes to compliment the Road to the Show and Franchise modes, you could live in an internet bubble and still have enough to keep you busy for a long time.
Overall (not an average): 9.0:
A few more loose ends than previous versions, MLB: The Show is still the premiere baseball franchise out there right now and this new iteration is still top of the line. With all the new features for
MLB 10: The Show
, it is no surprise that a couple of new glitches have come up. Yankee Stadium wasn't built in a day after all.  
-Ray Carsillo