Developer: PomPom Games
Website: http://pompomgames.com/alienzombiemegadeath.htm
From: The April Fools Bundle, Indie Royale (as of writing, it's still going!)
Platform: PS3, PC (Steam)
Price: £3.99 (Steam)
This may be from the April Fools Bundle, but believe me when I tell you that this game ACTUALLY exists. There are aliens. They are zombies. There is death. It is mega.
The game has a very unique style to it, with there being a sense of depth whilst at the same time not making the game feel 2.5D. 2.25D maybe? Meanwhile, there are a range of alien zombies (zombiens?) to be found within, with each very different to the last. The design of the characters also manage to give the game a slight retro feel, even though everything else in the game feels extremely modern. The soundtrack, meanwhile, does a good job in fitting with the gameplay, with it's slightly techno-vibe sticking throughout.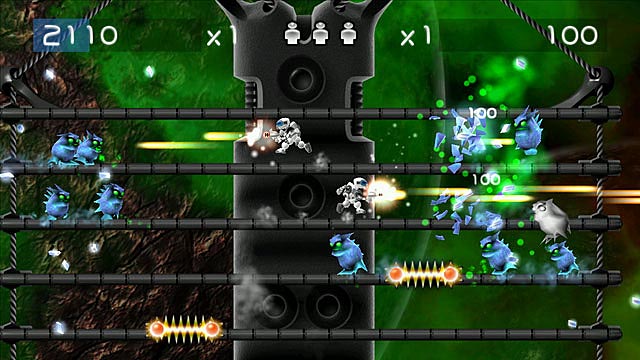 The game itself is a blend of a platformer and a shmup, where you have to jump and drop between different levels, all the while shooting the zombiens that are coming your way. Most of the gameplay involves you taking down various waves of the zombiens, with the aim always being to score as many points as possible and unlock medals, and thus unlock more levels. Dotted throughout, however, are other types of levels including 'Bomb Drop', 'Space Babies' and 'Boss Battles', which mix up the game in it's 70 levels enough to keep it interesting.
The game also includes some features that were much-needed, such as online leaderboards, which I'm in the overall top 500, which either means I'm amazing or not many people own this game. These leaderboards add much replay value to the game, as do the medals, which there are 4 of in every level, and the survival levels, the closest this game gets to the standard 'horde' mode. The game also features local multiplayer (which I sadly didn't play), Steam achievements and XBox controller support, which makes me wonder why the game was never released on XBLA as well as PSN, as it would have fit in well on the platform.
Sadly, here isn't much more that can be said about AZMD. In my 2 hours of playtime, I found that gameplay doesn't really evolve past 'shoot stuff' and every so often 'carry this... and shoot stuff!'. However, the game still managed to remain enjoyable even with this lack of depth, and I can easily still myself going back. I will get past level 25... one day!
Who is this game for? Fans of platformers, shooters, aliens, zombies and space babies.
Is it worth the price? Hells ya!