Despite my 3DS delivery problems my 3DS arrived today at around 12, for those of you unaware Amazon screwed up the 3DS's that people pre-ordered off of there site. So even though I paid extra money for it to arrive on the 25th (UK Release Day) it did not! However Amazon have refunded me the money plus a little bit extra. But enough about my money woes, a real life 3DS is sitting on my desk next to me, and that in itself is awesome! I was really excited for the console and was had a big smile on my face as I opend it all. I went for the Aqua Blue version, which to be accurate is not blue, but turquoise. The top of the console is glossy, so seconds after opening it I looked at the top to see it covered in fingerprints, I used to be so annyoyed and frustrated as a child about that stuff, but I've just learnt to live with it.  
 

     

When I started the console up I was pleased to see how straightforward it all was, then it told me to turn my 3D all the way up and that countdown started, I do not think I have ever been so excited about a console before in my life than I was when that 3,2,1 countdown was on. And then voila, it was 3D! The 3D took my breath away, despite it just being some simple box's going round, it fucking works! Despite everybody saying how good the 3D was I suspected that it was not going to be that good or I would not get it to work, but hot damn this is the future right here.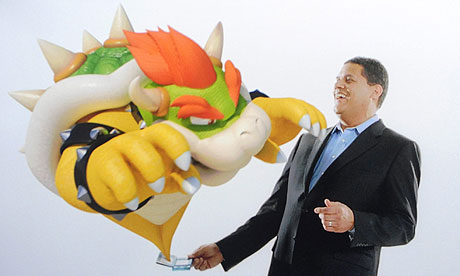 After smoosing over the 3D for a while I did start to feel sick, I actully did take a break after 20 minutes or so, which I did not think I would ever have to do. In all games they say like take a break after 1 hour to avoid headaches, which I never do and Im sure not alot of people do either, but yeah they ain't kidding with the 3DS. I am very prone to travel sickness anyway so that most probbaly does not help, but yeah after a while it felt like I was trying to read in a car (Which makes me feel sick) so I had to turn it off for a while and stick with 2D for abit I don't know if I'll get ajusted to it over time, it's still fine if I don't and can only play in 3D for 30 mins at a time, cause I can just switch back to 2D for a while then go back. But from what I have played of Pilotwings Resort and Super Street Fighter IV, the games look really impressive for 2D anyway.  
 

     

Face Raiders, I did not think I would enjoy this, it looked like a free thing I would come to once and go yeah that dosn't work so hot I'm not gonna try this again, but man oh man, its really good. Thats the feeling I;m getting of most of the stuff on the 3DS, I didn't epect this much off of the console and in almost every area it seems to have beaten my expextations and made it all the better. The AR cards are cool to, but I think thats the one thing I'm not going to go back to, unless i'm showing it off. I'll go into the games in fuller detail later, but Street Fighter IV is amazing and Pilotwings Resort is ok. I cannot play Pilotwings Resort with the 3D for very long as its hard to see what I'm actully doing, theres too much 3D. Street Fighters much better and improves the game because of it.  
 

 
    
 
Battery Life however is pretty crap, I don't know how charged it was out of the box, but it only lasted like 1 hour and 30 miniutes, even more annyoying is that it takes a good while to charge up. However, I have a good setup of me sitting at my desk and I can leave it plugged in and run of the mains, problem solved. Another issue I thought I might have was with the Analog Stick/Nub. I used to have the original PSP and I hated that godamn analog stick/nub so much, it hurt my hand and I kept slipping off. The 3DS's is much better and I managed to get a good grip on it.  
 

     
 
Overall very happy, my 3DS friend code is 3050 7568 1069, add me and we can trade Mii's and stuff! (Stree Fighter!) 
 
Seya Real Soon!