Not much at all has been going on in my life recently. That may be the reason I haven't wrote much up here for a few weeks or it could be that I just can't be arsed. I did go to Alton towers Tuesday. Alton Towers is a theme park in the UK about an hour and half's drive from my house. This year the park was nearly empty it was fucking awesome. Usually the lines can reach an hour long for some of the rides this year non-existent. That may be in part due to the weather (fucking rain) but it was still awesome.
Movies
I also went to see The Avengers film again since my last post. I cant get enough of that film. For those of you that don't know....I expect that will be no one but anyway.
The Avengers Assemble is a mash up of 3 big budget Marvel superhero franchises. Namely Iron Man, Captain America and Thor oh and with a little bit of Hulk sprinkled on top. I for one was psyched for this film. This film is a nerd's wet dream (Scarlett Johansson in that that tight outfit is mine). The question is does the film live up to the hype or will it fall short and be a massive (and i mean massive, have you seen the amount of stars in this) waste of pennies.
An Avengers film has been hinted at since Iron Man 2 in 2010 with Samuel L. Jacksons cameo and the appearance of Captain America's Shield. There were then later tie ins with the Captain America and Thor films in 2011. Now it's time for those guys (and a few more) to team up in the nerdgasm that is The Avengers Assemble.
In The Avengers Loki, Thor's little bro wants to conquer and rule Earth with the help of an Alien army and a super weapon/teleportation device/power source cube (it does fucking everything) called The Tessteract.To fight Loki and his army Nick fury (Played by Samuel L. Jackson) the head of S.H.I.E.L.D an intelligence organisation has to put together a team a super team of men and women with special abilities to fight the worst threat mankind has ever known.
As for the cast of this film. Oh my fucking god what a cast. Robert Downey Jnr. as the arrogant, self centered, sarcastic anti hero is amazing and by far the best character in the film. He played the role perfectly and I can't wait for Iron Man 3. Mark Ruffalo's first appearance as Bruce Banner/ Hulk is near on perfect. His uncomfortableness around other people is perfect for the character. I also loved how they used the voice of Lou Ferrigno for the voice of the Hulk too a perfect call back to classic Hulk. Thor and Captain America played by Chris Hemsworth and Chris Evans where good also while never really excelling. Another mention has to go to Scarlett Johansson as the Black Widow. Mainly because she looked sexy as hell and her pert bum looked perfect in that outfit.
The Avengers is the best film I have seen in a while (probably since inception). There are no words to describe how amazing the film is. The cast is perfect, the story is engaging and really funny when it wants to be. I really can't wait for the next film in the franchises. Pure and awesome film.!!!!!!!!!!!!!!!!!!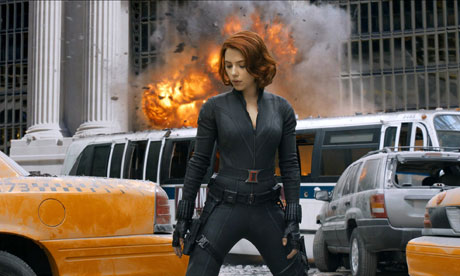 Anyway I went a little over board there games time.
What Have I Been Playing
I put a tiny bit more time into The Witcher 2 Assassins of the Kings Enhanced Edition I just dunno about this. I can see its a good game but I am just not feeling it. Its a real shame because I desperately want to love this game. I also sunk a hell off allot of time into Minecraft on the PC. May I say I am bloody loving this game. (game? Is it really a game). I just play it for hours on end Just mining and erm... well crafting. For the last couple of years I have stayed away from Minecraft. I never saw the appeal. But I am a gamer so I had to try it eventually the release of the Xbox version spurred me on I guess. I have to say I am glad I did. The only other game I have played is Diablo 3 . I received this Saturday morning, The Saturday before release. 3 Days before I can even install the bloody game. Having it sat on to of my sub all wrapped up in its plastic wrap not being able to do anything, not even install it was agony. Saying that even having it installed and able to play it can be annoying as fuck at times. I have encountered so much lag and so many errors. For a single player game I have to say that is very annoying. When it does work though the game is great. Extremely addicting loot system, great game play that goes further than "hey click here to kill this skeleton", you can go really deep customising your characters equipment and layout of your abilities to set up the best combination. The setting too, really moody and dark while at times strangely cartoon like. I fucking love it. I have never played any of the Prequels but I got really addicted to Torchlight when it was released on XBLA. Knowing that Diablo was the inspiration for that game meant that I had to play this.
So What next?
I am hoping to go see Sacha Baron Cohen's new film the dictator next week. I love his work, Bruno and Borat are great films. Nothing yet has compared to Ali G though (TV series not the film). I have also decided to go back through the Avengers films on Blu Ray. Thor next. As for games more Diablo definitely and I may look into buying Max Payne 3 when it gets its PC release. If the version is any good (reliability wise). I also got an email about the Torchlight 2 beta this morning so that is my weekend sorted. Oh Yeah BTDub I am considering making a backlog list go check it out if your interested.