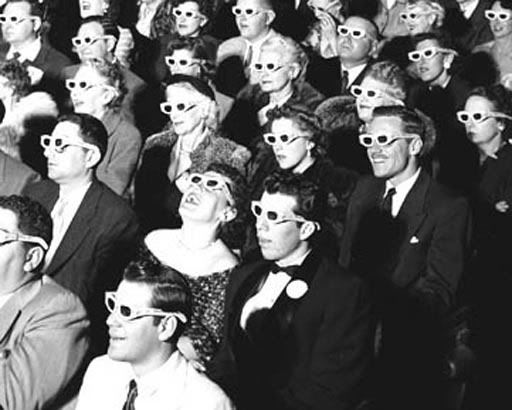 With the film Avatar making mountains of cash, and many studios linking this to 3d, there has been a huge push for 3d viewing of media content. To this I say, they are stupid.
Now for a better argument... For all those that have seen Avatar are amazed by the visual splendor that greats viewers eyes as they are emerged into this film. This is great for a while, until in my case, the glasses started to press on my head a little to much, and every time i tilted my head to rest it on my girlfriend's head or shoulder,  who was snuggled up beside me, the pictures got all fuzzy. Unless you are right in the center of the screen, with you head up and the glasses on right, and with you head level with the screen, you get distortion in the picture that you see. This is annoying, I currently have a very nice home theater system that is in my basement, and in my opinion, a properly set up high definition television with a properly setup hd source will get a picture that has depth of field. To say the least, it looks damn near 3d, and I can snuggle with my girlfriend, and I don't look like a moron wearing oversized sunglasses.
This is something that unfortunately becoming more popular with manufacturers and movie studios and I wish they would stop. Not everything is better in 3d.