There's not much else to blog about at the moment so I thought I'd let everyone know what I'm playing since I don't have a next gen console at my house anymore. I only have one other console that I like as much as the 360 and that being the Playstation 2 so I went back and started playing some of the clas sics.
Resident Evil 4 (Capcom)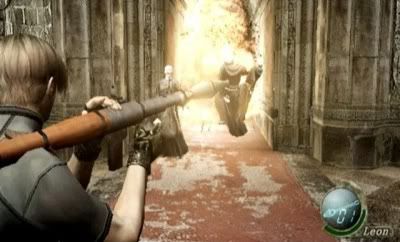 Resident Evil 4 is just great, and for RE5 to be modeled after it just makes it that much better. I've played this through countless times and remembered I had a save I didn't finish so I thought it be a good time to go back. It's my first attempt at the Pro mode and the last time and at the Krauser fight in Act IV, about another few hours and I should be done. I can only imagine how hard some of the scenes in Act V are going to be played out since you're constantly surrounded by enemies trying to make your way to the final fight. I plan on finishing the game and unlocking those extra outfits and new weapons to play through it once more before Resident Evil 5 comes out next year.

This is one of my favourite games on the PS2 and just the intensity and the atmosphere combined adds a lot of depth to the game and will always be played out like a new game. Some of the extra challenge modes off the menu are hard, there's this one point challenge where you have to survive as long as possible on a small map and the enemies just come after you wave after wave. The dude with the chainsaw always ends up getting me, not the weak one but the stronger one. Overall amazing game and definitely worth going back to in the last weeks of summer.

Devil May Cry (Capcom)
Devil May Cry has to be one of the most refreshing PS2 titles to date. It introduced a new and exciting genre and set the bar incredibly high to top it back when it was released. Already four games in the series and this is the one that started it all. Featuring a dark and twisted story of revenge set in a castle that is to provide Dante with the answers he needs, quickly finds out there's more than what he's searching for very quickly. I must say some of the fights are hard and the way they implemented the combo system is one of the best I've seen even to today's standards. I like the way tactics play a vital role in the way you attack in this game since not all enemies are affected that much by certain weapons.

There are a lot of puzzles and some great boss fights that will test your limits to the edge especially on the higher difficulties. It's been a while since I've played this so I have to get used to it again and if I have time I'll play through the other two games that I have in the series.The attacks are insane and the Devil Trigger I think it's called is awesome in this game. This really is an over-the-top game with a lot of interesting puzzles, enemies and one of my favourite action-shooter hybrid games of all time. I plan on finishing this as soon as I figure out this one section I'm currently stuck on at the moment.