Welcome to the Spotlight!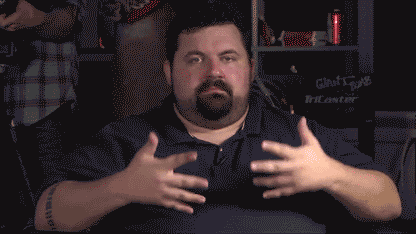 Hello and welcome to the latest edition of the Giant Bomb Community Spotlight! It's Turkey week in America and as a result there's a sale on Giant Bomb Memberships for just $35. Watch out supplies are limited! For those still on their heels in regards to the site re-design Dave Tweeted this image of what the new site will look like for everyone to marvel at. For those that like stats you may be surprised to hear that Giant Bomb is now the first site to pop-up when you Google "Crashmo." Finally if you enjoyed Jeff's livestream of Funky Barn then help this website become the #1 source of information about Funky Barn by accomplishing the Wiki Task for the game.
Community Activities & Game Nights
Official Crashmo/Fallblox QR Code Posting Thread - Post Your Levels Over Here!
Luchadeer Battalion in Planetside 2 is Recruiting! Sign Up to Join the Community Outfit Over Here!
Official Wii U Network ID Sharing Thread - Post Your Wii U IDs Over Here to Play Games With Fellow Users Online Here!
Wonderful Wikis
Hey the Wii U launched and if you were not able to get your hand on one then head on over to the Wii U platform page and read all about the console and its fetaures. As to be expected Nintendo Land and ZombiU both got the launch title bump in terms of their wiki pages and you should check out both. In regards to the ZombiU read all about the game's troubled development history.
Best of Blogs
Pepsiman takes the cake this week with his blog about why the title screen for Catherine is a lot more important than most people give it credit for on his massive blog entry. Oni like many users on Giant Bomb finished Episode 5 of The Walking Dead and discusses the series as a whole on his blog this week. FLStyle gives you an update on the Fighting Game Community with a list of major events and live-streams to check out this weekend. Mento defends his position on The Last Story as well as details his thoughts on Dust: An Elysian Tail. Video_Game_King celebrated Thanksgiving week by going strange with his blog on Eversion and Devil World. dankempster is doing a gaming marathon this weekend for charity! Help him out in raising money for blood cancer on his blog. DarkFury continues to look back on the most notable games he played this year while Sparky_Buzzsaw played through Forza Horizon and XCOM. Jeric is starting a blog series about his adventures in Persona 4: Golden whereas F1000003 continues to play through every single James Bond game ever made with the Gameboy Color version of The World is Not Enough. RPGee discusses why he enjoyed the demo for the upcoming Devil May Cry game and MarkWahlberg shares a fan video of the Mass Effect franchise. Related to that MetalGearSunny discusses his effort to play through the first Mass effect as well as Super Meat Boy. ArbitraryWater sticks with his shtick by playing a bunch of old games by Interplay as well as the old Resident Evil games, and Might and Magic. Kapalaka shares some awesome cosplay she made of Terra Branford. Finally D_Bones finished PixelJunk Shooter and shares his take of the game
Finally the always unpredictable Sweep has some ideas of how to get the community interested in blogging again. Check out his ideas and help him out and make my task of showcasing blogs ten times easier!
Fantastic Forums
Do you have an idea of what game you think will be awarded Giant Bomb's Game of the Year Award? If so make your pick on the poll and see if you are right when GOTY deliberations roll out. The first season of The Walking Dead has wrapped up and if you have been playing the episode you know that everyone is talking about the fifth episode. Join them on the Episode 5 discussion thread and also vote on your favorite episode on the community poll. Also join your fellow users in posting your thoughts or impressions of Little Inferno and Hitman: Absolution on the discussion threads. If you managed to get your hands on a copy of Persona 4: Golden post pictures of your unit. The Autumn Steam Sale is in full effect, and discuss what you have bought or what games you think everyone else should buy on the reporting thread for the event. Finally help caption or photoshop an image of Ryan Davis this week for great hilarious effect.
Useful User Reviews
Lovable Lists
ArbitraryWater is the single and solitary list this week but it's no slouch as ArbitraryWater numbered the old-school Resident Evil games according to which ones he liked the most.