So, this last weekend I went home and started playing my copy of Xenoblade Chronicles. And, between Friday afternoon and Sunday afternoon, I spent about 26 hours playing it. And while I certainly haven't played enough to judge the game as a whole (the estimations of it being a 100+ hour game seem totally accurate based on what I've played), I still have plenty I want to say about it.
If you don't know anything about it, Xenoblade Chronicles is an RPG made by MonolithSoft, published by Nintendo, and translated in the United Kingdom. I suppose the game's inherent British-ness is as good a place to begin as any. All the voice acting is mad-British, which may either be a pro or a con, depending on who you ask. I think it's great, because I haven't played a game this British since Fable III. And much like Fable III, not only is the voice acting British, the text is as well. For the most part I don't mind, because it's mostly stuff like extra "u"s. But, also like in Fable III (where I learned that the British spell "pajama," "pyjama"), sometimes it drives me mad. Specifically when characters learn new skills or "arts" (more on that later). It doesn't say "Skill Learned" like it would if the game was translated in the US, it says, "Skill Learnt." And while there are probably British people reading this and thinking, "Yeah, so?" It drives me crazy that "learnt" is the past tense of "learn" in British English. But that's just nitpicking.
Beyond the British-ness, the voice acting (that I have heard thus far) ranges from genuinely good to good in a goofy/silly way. No Nolan North, which is displeasing, but I'll live. More consistently good, however, is the music, and the cut-scenes. Both are uniformly fantastic (thus far). Everything from the exciting battle music, to the running across a big field music, to the dramatic/driving music during cut-scenes is amazing. This is the first game in a long time where I've repeatedly thought to myself, "I should buy the soundtrack for this game." Not since Deadly Premonition have I wanted a soundtrack so badly (also, the first game since Deadly Premonition that I bought at a GameStop (but the Deadly Premonition soundtrack is free)). So far as the cut-scenes go, think ridiculous anime fights, but rendered in 3D. Not quite as ridiculous as something like Dragon Ball Z (not yet at least), but still pretty cool.
As you probably know/guessed from me saying this game was published by Nintendo, Xenoblade Chronicles is a Wii game. And it looks like a Wii game. A lot of textures aren't great, and character models tend to look kinda chunky/blocky close up. Conversely, the art design is fantastic, and the scale is insane. The game isn't open world, as there are discreet areas with load screens between them, but the individual areas are gigantic. Big enough that the game might as well be an open world. But the crazy thing is that unlike something like Skyrim where there's all sorts of streaming going on to load up areas whilst you walk to them, I'm pretty sure the game loads up everything into the Wii's memory, because you can fast travel from one end of an area to the other with zero loading. If you saw the Quick Look, then you saw that in action, and I can confirm that it's always that quick (at least thus far). And that area Patrick gets to is ENORMOUS. He didn't even show a fraction of how big it is. There is a lake, and a bridge, and a canyon, and all sorts of other stuff. And giant turtles and turkey people that attack you.
And that brings me to the combat, which is probably the thing that makes Xenoblade stand out. Well, I think it does, Patrick said the combat is like MMOs in the Quick Look, and the only time I ever played one was when a couple of my friends tried to make me try WoW, and I conned one of them into paying me (like a dollar or something). So I have no point of reference for that stuff, but I can say that I enjoy Xenoblade's combat quite a bit.
Much like many JRPGs, you have a crew of dudes (well, there are female characters too, but you know what I mean), and you can have up to three in combat at a time. You only control one, and the AI controls the others. Oddly enough, you can pick which one you want to control, despite there very clearly being one character who is the main protagonist of the game (and also the one I use). That guy is Shulk, and like many JRPG protagonists, he is a young-ish guy (20-ish I think) with a mysterious past and some sort of hidden powers that make him the protagonist. But you know what else he is? A rogue.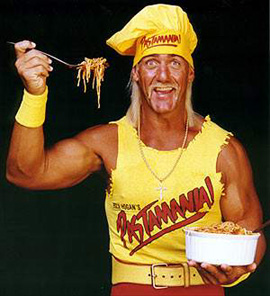 No, Shulk, not Hulk (Hogan).
Anyway, in combat, so long as you are within range of an enemy, your character will auto-attack, but the real meat of the combat are the "Arts," or to use normal terms, those are the attacks you have access to. There's a bar at the bottom of the screen with the "Arts" on it, and when you pick a move, he does it. Then you have to wait for the individual moves to recharge before you can use them again, but if you want, you can rapid fire several in a row, which I quite like. And in the case of Shulk, several of them give bonuses depending on where you are in relation to the enemy. If you use the Back Slash Art whilst behind an enemy, the attack will do twice the normal amount of damage. And he has several moves that add additional status effects if you attack from the side. And from my limited knowledge of rogues, they do back-stabs, right? And there's tons of other layers to the combat, like letting the "tank" character Reyn get aggro from enemies so Shulk can sneak around and do those back stabs.
There's a bunch of other stuff, like chain attacks, skill links, buffs, debuffs, etc. It's really deep, but the base mechanics of what is going on are simple enough to make it approachable to people like me who generally only play games that are either complete direct control (like shooters and that stuff) or turn based games. At least it is early on/if you are over leveled. In my experience, fights with enemies that are only a few levels above my characters (around level 32, the last time I played) usually end in complete failure. And then there are the level 70 or 80 monsters that wander around. If you watched the Quick Look, then you saw that giant level 80-something monster. Well, monsters with levels that high are quite common, but most of them don't have the decency to be giant, so it's easy to think something is a normal enemy, but not realize it's almost three times your level until it's too late, and the next thing you know it has killed you in one hit. But the game has the Borderlands style of respawning, where it just sets you back at a spot, with no penalties, except for unkilled enemies going back to full health (and I think most dead enemies come back too, so I guess it's Dark Souls-ish too). But unlike Borderlands, you don't have to pay to respawn, which is nice. Conversely, if your level is a lot higher than the enemies around, not only are they very easy to kill, but they will straight up ignore you if you don't actively engage them, which is fantastic if you are running around looking for something.
Speaking of looking for things, and this picture of a dog that is fetching a stick, the side quests in this game are really generic. Most of them are things like, "Kill X number of monster Y," or "Get me X number of item Y." Luckily those quests are usually given before you enter an area (marked by guys with exclamation points over their heads), so you can complete them on your way to the next story thing (and also get some leveling in, which as I've said, is important). There are some quests in town that involve running around talking to people, but those are just delivery quests, the writing isn't that great, and there's no voice acting in the side stuff, so it doesn't even have the same British charm that the story stuff does. But doing this stuff improves your affinity with people, and there's this elaborate chart of people and their relationships with each other in the game, and it changes as you do things, and I think this stuff has some effect on something, but I dunno. I know how the affinity stuff works in the squad, but I dunno. Most of the stuff is explained pretty well, but I guess affinity is one I didn't pay attention to. Maybe it affects shop prices. That would make sense.
There's so much going on in this game. Certain pieces of equipment have gem slots where you can put in gems that have different effects (and you can remove them, aside from "Unique" items, that come with gems pre-installed, and you can't remove them (and they aren't unique, because I've gotten more than one of the same "unique" item)), and you can craft gems, but how the crafting process goes changes depending on what characters you pick to do the crafting, and what order you pick them in...
There is a lot going on. And I love it. I think that, despite a few flaws here and there, the game is fantastic. There's probably a lot more grinding involved than a lot of people are willing to put up with (especially if you're like me, and aren't great at being tactical and whatnot), but I think the combat is fun. And I think that if you have a Wii, and like RPGs, you should buy and play this game. And buy it soon, because the more copies are sold, the more likely Nintendo will be to bring over games like this in the future (hopefully without the elaborate "letter" writing campaign and everything). This is clearly a game that a lot of people put a lot of time and effort into, and should be celebrated for doing so (especially on the Wii, which is infamous for being so "kiddy" and everything).
That's about it. I haven't had the time to do any other gaming, or anything interesting, for that matter. The semester is almost over, and in a few weeks I'll have the time to spend all day and night playing Xenoblade, and when I eventually beat it, I'll try to pick up Witcher 2 and Yakuza Dead Souls. And I still have to S-Rank Mass Effect 3, so I'll probably get around to that by the time they put out that extended cut DLC (which I won't comment on, because that has been talked to death at this point).
And with the semester over, I should be able to get back to work on my book. I did what many of you suggested, and took six or so weeks off (during which I've been thinking up ideas for other books I hope to write in the near future), and soon I should be able to get my friends to read it and tell me if it's actually good. Then I have to edit it some more, and try to get it published, which will probably be a long and arduous process, but I will keep the fine gentlemen and ladies at Giant Bomb informed (and the people who actually read my stuff too).
So, anyone else playing Xenoblade Chronicles? Any British people out there to call us Americans silly for not using the word "Learnt?"
EDIT: Oh, something I forgot to mention is the instruction book. In true Nintendo fashion, it's full color (or colour), packed with info, and in multiple languages. It's nice to see in this day and age of games with no manuals. Also worth noting is the reversible box art, which is nice looking (especially since the back of the normal box art is covered in text, because Nintendo has to put everything in English, French, and Spanish).