Nothing short of fantastic.
BioShock came out in late 2007, but I feel I should share my thoughts on this titan of a game.   It is definitely one of my favorite games of this generation - and here's why.
 
Story
In BioShock, you start out as a normal, every-day person named Jack, flying on a plane, reminiscing on how his parents told him that he was destined for greatness. But all of a sudden, Jack blacks out, and he wakes up below the surface of the ocean. He rises and the plane he was on has crashed, and there is debris of the plane everywhere. You start controlling from there. Things start getting weird when you go into the Bathysphere, the submarine-like object that takes you to the underwater metropolis called 'Rapture'. Atlas, a seemingly helpful friend, helps Jack via the walk-e talk-e found in the bathysphere. He assists Jack in making his way to safety, while Rapture's dystopian ruler, Andrew Ryan, believing Jack to be an agent of a surface nation, uses Rapture's turrets & security cameras, and his pheromone-controlled Splicers against him. Atlas persuades you to use "Plasmids". Plasmids give you special abilities, and to fuel Plasmids, you must use ADAM and EVE. ADAM gets you new Plasmids, and EVE allows you to use them. From there, you explore Rapture's nooks and crannies, meeting very strange people, acquiring all sorts of powers along the way.
Gameplay
BioShock is a First-Person Shooter (FPS). It has many Role-Playing Game (RPG) elements, and stealth elements as well. You, Jack, use weapons and plasmids in order to complete objectives. The weapons range from your ordinary pistols and shotguns, to things like napalm-flame throwers and grenades. Plasmids are very varied, ranging from abilities like shooting electricity, to turning invisible. Plasmids are most often are purchased by the player at "Gatherer's Gardens" using the ADAM samples that you have collected from Little Sisters. In order to collect ADAM, the player must first defeat the "Big Daddy", genetically modified, huge ass people wearing an armored diving suit, some of which that even have a giant drill, that follows and guards each Little Sister. After this, the player has a moral choice: either to kill the Little Sister to harvest a lot ADAM, or to save the Little Sister and gain a lesser amount, though for every three Little Sisters you spare, a gift of a large amount of ADAM is given to you. While both choices have certain pluses, this element of morals has an effect on the storyline, and, even on the difficulty of the game itself. While exploring the city of Rapture, the player collects money, which can be used at vending machines to gain ammo, health, and additional equipment, or can be used to upgrade your current weapons. The player also uses parts that can be used at certain "U-Invent" machines to create new weapons. Various items like turrets and vending machines can be hacked to the your advantage, such as targeting enemy foes or purchasing items at a lower price. The cool thing about hacking is the mini-game that it goes into, where you fit different pipes in a way to get a liquid from 'Point A' to 'Point B'. In the game, you fight crazed humans called 'Splicers'. There are many classes of splicers. Spider Splicers, that climb up walls and throw hooks at you, just to name one of them. Glass-walled "Vita-Chambers" can also be found in BioShock.. If Jack dies, his body is reincarnated at the nearest one, but only a bit of his full health. There are little things that add to this game, like shocking water with electricity will damage everyone in it, including you. Shooting fire in oil, likewise, will burn everyone in the surrounding oil.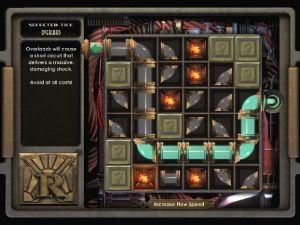 The pipe-fitting mini-game is a nice touch, and is somewhat challenging.
Graphics
The graphics in BioShock are nothing less then done phenomenally well, especially since this game is about two years old. It still glimmers on my HDTV, and the lighting in the game makes it spookier than the game actually is. Not very many slow downs or glitches in the graphics, which is nice. For a game made in 2007, the graphics hold up to this day, which is saying something.
Controls
The controls in BioShock are pretty basic, not too original. They work well, though, and that's all you really need.
A - Enter, Pick up items
B - Heal yourself
X - Hack machines
Y - Jump
Left Stick - Move
Right Stick - Move camera
Left Trigger - Switch from weapons to plasmids, fires plasmids
Right Trigger - Switch from plasmids to weapons, fires weapons
Left Bumper - selects which plasmids to use
Right Bumper - selects which weapons to use
Start - Pause
Back - Map
Sound
The music of BioShock is done very well. It's ambient and all around creepy. Onto another great sound aspect. One of the neatest things about BioShock is the recorded messages in tape recorders found all around Rapture. These tapes share stories of things like the history of Rapture, what's up with Andrew Ryan, personal stories of what's happening to families that have lived in Rapture. It adds the micromanaging aspect of wanting to collect every last one of those little things, and some of what is explained ties the story together and is down right interesting.
Final Verdict
Overall, BioShock is a great FPS with a tremendous story behind it, along with great RPG elements implemented fabulously into the FPS environment. Enemies are creative, and interactivity with the environment is amazing. There are some very minute complaints. The game is essentially too easy. You could take down any baddy that isn't a boss if you put enough effort into it, like the Big Daddies. You could just spend 20 minutes shocking, than hammering it, because when you die, the enemy has the same health when you last encountered it, and you respawn in containment tanks that aren't too far away from your adversary. Not much of a complaint, but it did need to be addressed.