First of all I've got to get THIS out of the way...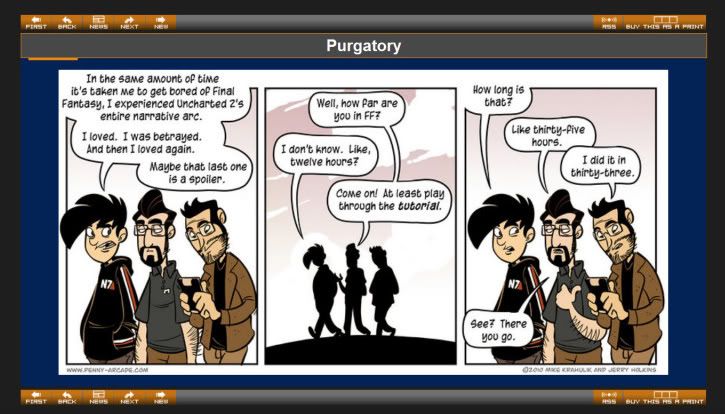 ...cause its awesome and relevant. AND I almost counted it as a vote, but it wouldn't of made a difference as you'll soon notice.
HERE IT IS!
EBAY/KEEP/(EBAY LATERS)
Gamespot: 1/2/1
IGN:2/4/2
GiantBomb:8/13/5
1UP:2/1/0
Twitter/FB:1/1/0
PlusXP:0/2/3
TOTAL:14/23/11
KEEP WINS!
-These votes were shared across my Gamespot, IGN, Giantbomb and 1UP blogs along with votes from social networks and the site I contribute to PlusXP.-
Now there were ALOT of people whom didnt give a straight answer; something along the lines of- if you like it, keep it, if not sell it. Therefore I couldn't count it as a vote, despite how much sense it makes. But thanks anyhoot.
Now onto the results themeselves. I am pretty damn surprised! Considering the general online consensus, I thought it was gonna be a landslide for 'EBAY'. BUT of course theres the fact that it is signed by important dudes, which has become the main factor behind peoples votes.
As you can see theres also another category here 'Ebay Laters', which was recognised under the popular suggestion of waiting for it to gain value over time. And a damn good point too. I can't help but wander that if I had that as an original category along side the others, would it have gotten more votes...
So yup thats that. I'm keeping FF13.
I have to say thanks for your votes guys, I was REALLY indecisive about it. Like literally today there were moments where I was hoping that the votes would be 'KEEP' and then an hour later I was wishing it would be 'EBAY'. So yeah, I is indecided on stuffs. In terms of whether or not am I going to play it still? well I guess seeing as I'm keeping it, thats a no brainer. Here's looking forward to that 30 hr cross over point into awesomes ville =D