!Viva La Glorious!
  
Let me ask you something - Do you play Rock Band still? Do you even marginally enjoy Green Day? You should pick this up if you said 'yes' to even one of the two.

Let's get right to what we all want to know - the set list. Green Day: Rock Band may give you "bang for your buck" if you're into Green Day. $60 will get you 47 songs, of which are all of Dookie, American Idiot and 21st Century Breakdown (minus the 21CB tracks available already for DLC). The songs on the disc are exportable (for an extra $10 fee), which is always a nice bonus. They're also allegedly compatible with the upcoming Rock Band 3 as well, which will include vocal harmonies. The game also boasts the big hits from Nimrod, Insomniac, and Warning. $60 for 47 songs is cheaper than what you'd pay for all those tracks one-by-one, assuming you'd actually want every song included. 

It's great to have entire albums, but a lot of the band's middle albums, like Insomniac and Nimrod, gets skipped over. Where's 'Panic Song'? Where's '86'? Most of the band's albums went platinum and I'd like a bigger representation from them. It's a bummer Harmonix couldn't take Green Day's first two albums, 39/Smooth and Kerplunk, and put at least some of it into the game. After all, band specific music games are supposed to go through a band's whole history of music, not the highlights. Just look at Guitar Hero: Metallica. It made an effort to get at least some of the songs from each one of their albums, which worked.

Vocal harmonies, first introduced in The Beatles: Rock Band, has been improved quite a bit. Not to say the tracks are "easier" than Beatles, but they seem to flow a little better, and aren't as strenuous on one's voice. American Idiot and 21st Century Breakdown in particular offer a lot to the harmonies department. They also seem not as hard to grasp, due to the fact that the vocals pertain to something entirely different. 

While on the subject of vocals, I must point this out - Censorship sucks. Yes, the game has a 'T' rating, so it can't use 'shit', 'fuck', or 'fag' and such, and for what Green Day stood for, it's kinda iffy when you hear "Well maybe I'm the --- in America!" on the iconic American Idiot song. God knows kids who buy 'T' rated games don't hear 'shit' anywhere. The game is made FOR GREEN DAY FANS, who HAVE the albums that have the profanity, so it doesn't make any sense.

Green Day: Rock Band is more like The Beatles: Rock Band than Rock Band 2. It supports individual venues that Green Day performed throughout their career, which to be honest, is a little light on variety. With only 3 venues, there's not much to spread around. I don't like to keep drawing comparisons to The Beatles: Rock Band, but it's Harmonix's only other rythym game, so I must. In The Beatles: Rock Band, Harmonix created trippy "venues" (more like LSD crazes) to fill certain gaps in the band's career, and the result was awesome (just play 'Here Comes the Sun' and you'll get what I mean). In Green Day: Rock Band, there's none of that, just the 3 sets.

I'm not saying that Green Day is not as good as the Beatles, but Green Day's songs are more fitted for a Rock Band setting - they are fun, plain and simple. Not to say none of the tracks are at all challenging. The game has a couple songs that break the 9-minute barrier, which is like a marathon for music games.

If you're into Rock Band more than you are into Green Day, you'll find that the level of challenge here is in between the difficulty of Rock Band 2's hardest songs and The Beatles: Rock band. Green Day's music is usually on the up-tempo, speedy side, but Billie Joe Armstrong tends to sing in a range that is easier on the vocal chords than The Beatles: Rock Band, and the three-part harmonies are simpler and easier, as well. Bassist Mike Dirnt has a knack for walking bass lines that translate into fun, interesting gameplay, and drummer Tre Cool has some challenging, but not 'Dream Theater' impossible drum beats.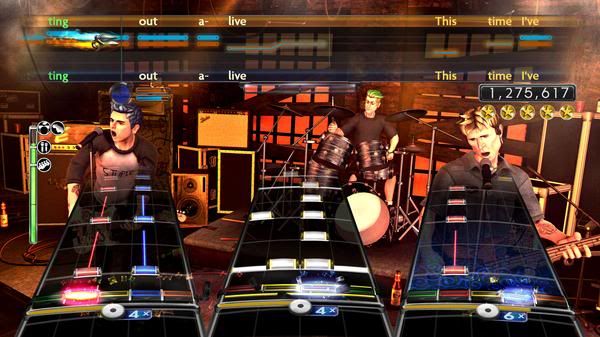 All in all, if you like Green Day and/or Rock Band, you should get this game, or at least wait a little while for a price drop (it will happen, people). The game has a "feel", where it's in between the scoffed AC/DC track pack, and The Beatles: Rock Band, a little closer to Beatles, mind you, but it doesn't quite have the polish. But, the songs are really fun to play, and when you get down to it, that's what counts.     
 
 
Final Score: 8/10