Took me 25 hours to finish RE 4. Why? Because I, as a completionist, tried to savour and suck every joy out of this game. I wasn't a fan of ending the game with an unpredictably bad controlling jet-ski timed challenge, so that was annoying. Still, the end cutscene showed the game still had charm for the awkward relationship between Leon and Ashley, and Capcom's penchant for Ashley fanservice.
Anyway, got me to thinking.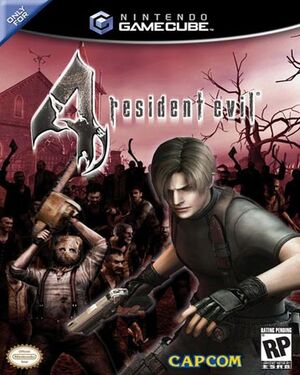 These games have very similar design philosophies. I've been recently getting my cousin to play Prince of Persia (his quote: "pretty damn good"). No, don't bother if you're thinking I'm going to end up saying which game is better. Both are equal, as in being the best of their respective genres.
Both games have an old-school chapter approach with a boss finale. Each of the 24 "fertile grounds" in PoP has a boss, as does every 2-1, 3-2, 4-3, in RE 4. RE 4 might have a leg up on variety of boss encounters, but it also likes to rehash some of them quite a bit e.g. El Gigante.
Both games have only 1 difficulty, because they're such well-designed games. No, I don't count "Professional" in RE 4 as a main difficulty, because you only unlock it after you finish the whole game as a bonus. Both games are not super challenging, but of course not without trial-and-error e.g. Elika's double jump vs one-hit kills from RE 4 bosses. You know another well-designed game with no choice in difficulty? Mario, that's right.
Both games excel in pacing, but in different ways. Both games work up to a challenge by ending the level with a boss. Both allow for exploration. While RE 4 might not be as non-linear, it still allows backtracking if you want extra treasures or going back to the Merchant. Prince of Persia is a non-linear game. There aren't many out there. There are 24 "fertile grounds", and you can pick in what order you want to do them. You can dictate the pacing. This is why the game excels in its choose-your-adventure and flexible game design. Plus, how many non-linear platforming open-world games do you know? Sorry, the platforming sandbox games like Prototype/inFamous/Crackdown don't count since they aren't only about the platforming and don't have linear platforming design.
Both games know well to break the pacing by having optional dialogue or a hilarious Merchant. Who doesn't remember the Merchant?! "Ahh, I'll buy it at a HIGH PRICE!". He's literally a drug dealer, I mean c'mon listen to his chuckling after EVERY purchase you make! :lol:
Talking with Elika at every opportunity is hard to ignore, she's so intriguing and mysterious. Who does she pray to? What's Ormazd? Why is she so sheltered? What's with her and her dad? What's with the creepy visions? Where did everyone go from this world to?
Both games break up their repetition, and therefore can stand against other games in their genre.
Prince of Persia has a gorgeously designed, creative game world that helps fight the repetition. If you can't appreciate the amount of work they put into such a magical open-world, that's fine. Platforming is 80% of the game, so they might as well vary up the game world you're in. The rest of the game is combat and puzzles. This game may not be about combat unlike Shadow of the Colossus that it's inspired from, even if it does have a very clever and innovative combat scheme that I call "dial-a-combo". If you've ever heard of God Hand, you'll know what I'm talking about. My cousin was a little stunned that he could literally button-mash and still get a successful outcome, although of course you do have to block and parry for such windows of opportunity. How many games allow you to create your own combos? Another thing I love about PoP's combat is, little input=big output. Every sword slash or move in a combo is cinematic and elaborate; compare this to a Ninja Gaiden or other action games. I'm fine with people not liking the combat because you only fight 1 enemy at a time; but I'd rather have a satisfying bout with one dude instead of a clusterfudge that other action games tend to become.
RE 4 has various enemy encounters and accompanying level design for such encounters that help fight the repetition. Shooting is 80% of the game. So you might as well change it up, so that players can experiment with weapon loadouts. The game did feel too tedious with all the detours from the main path and Ashley being kidnapped 4 times. The Castle is the most obvious victim of this. That's due to the kitchen-sink approach the Mikami team stuck to, throwing every idea they could, trying to be as much of an Indiana Jones game as they could. Yeah, that's right, RE 4 is as good an Indiana Jones as you're ever going to get. RE 4 actually has some pretty similar puzzles to PoP, also, even if they're not as inspired or even relevant. There aren't many shooters out there that are well-designed enough to put variety in their gameplay elements like RE 4. I can only name the excellent Max Payne series, and Dead Space. You can't have shooting 100% of the time, no matter how cool a chainsaw execution move is.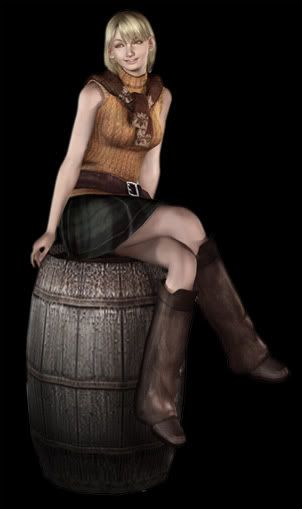 Both games have charm and are iconic. RE 4 has one strange charm as all Japanese media has, for fanservice, in the form of Ashley :P. Leon and Ashley is just an awkward relationship; even Ashley wants some "overtime" but Leon clearly is not interested no matter how funny these alternateending videos are. PoP has a magical world that you get transported to. How many games can be truly magical these days? Just the air balloon palace alone is enough crazy imagination. While the previous Prince games had a semblance of taking place in some alternate historical setting, this game makes no bones about how mystical everything is, down to explaining how Elika feeds on light orbs :P. Prince and Elika is IMO a more interesting bittersweet game couple than Farah and the previous Prince.
Even the old Prince games sexualised their female characters, like Farah and those two other sexbots. Elika is nothing like them, except that she's a strong female lead. One dude's a down-to-earth, smart aleck and the gal is a religious fiend who needs to come off her high horse which the Prince is more than willing to do. Personally, I like the outfit for this Prince more than the weird mishmash of arabic clothes and heavy metal armour the previous Prince was going for.
This new Prince looks more rogue and iconic with his raggy clothes and improvised armour, compared to this:
Of course, if you're not a fan of the core mechanics of either game, then there's no debate. I myself was a stringent hater of stop-to-shoot when I first heard it in RE 5 (I was oblivious to RE 4), but since trying it out in RE 4, I had no qualms but it has its problems that are most evident in a Gears clone/RE 4 rehash like RE 5. Once you play Dead Space, you're spoiled of better mechanics, but the designers of RE 4 was smart enough to know the limitations to not overwhelm you. And if you're not a fan of the Prince's new platforming where his animations are more elaborate and where you have to let him complete his glorious animation, then there's no point arguing that the platforming is any good. He's a lot more nimble and monkey-ish; exemplified by his extra scurrying up walls or literally crawling on the ceiling. With the Gripfall, he's also versatile, in addition to Elika's jump which can lead to some interesting experimentation when getting those hard-to-reach orbs.
So, if both games are great in their own genres, why is RE 4 more critically acclaimed than Prince of Persia? Simple, because of market saturation. There are so many 3rd person shooters on the market, that inadvertently help unique shooters like RE 4 and Max Payne stand out against Gears and other cover shooters. Platformers, there aren't that many, plus it's almost a niche market now. Only games like Mario, Tomb Raider, and Prince of Persia, try any more; and these are old stalwarts in a stale genre. Platformers were only ever big in the Playstation era, and they were all great like Spyro, and...okay, I didn't ever play Ratchet or Jak+Daxter :S.
Plus, RE 4 is actually a lot more safe than Prince of Persia. Yes, some people are not fans of the more action shooter approach compared to previous RE games; although those people need to realise RE has always been that, and always had cheap scares. It's no Silent Hill/Fatal Frame. But overall, many people liked how streamlined of an action game RE 4 was, they gobbled it up on Gamecube, PS2, and finally the Wii.
Prince of Persia already had good games in the previous trilogy. It didn't need to reinvent itself. No need for innovation, new ideas, concepts, or stories. They weren't big sellers because of their genre, and their combat wasn't the greatest, but they were critically acclaimed. Ok, that was just Sands of Time, and it all went downhill even if Two Thrones was doing some cool new ideas. Platformers are not million sellers, but I hope this new PoP is. The reason PoP is more alienating than RE 4 is because it's doing bold new ideas (storytelling; non-linear world; dial-a-combo; no game over screen) that might influence many new games.
How they've managed to break up storytelling into optional dialogue and still keep coherent when you can choose whichever sections of the games to complete is a mystery to me, but it works. From the whole Concubine saga of introspection to Elika feeling more pity for these Corrupted to Prince actually liking Elika and not throwing one-liners somehow works in tandem with the non-linear game structure. There are hardly any cutscenes to the level of the previous PoP games. Very low-key, minimalist, and it's only about 2 characters. So, the storytelling is pretty different there. BUT, BUT, BUT...I don't like how you have to STOP and TALK. First, that goes against how the game should be flexible. I KNOW they put a lot of work into their facial animations, and want it to be feel like a ping-pong battle like a sitcom with the camera angles, but they should allow you to platform and talk, like in the previous PoPs. So what if you sacrifice a little of the emotional drama or whatever, some compromise has to be made for gamers who don't want to put their game pad down. Moving on,the ending is what everyone talks about now, so people clearly care if there's a good story told in a game that only has to do with 2 characters bickering over a god of darkness and whether the good god actually exists. Maybe commentary on religion in our non-believing culture?
Then there's the combat. This might actually bring in more fans, because people like button-mashing and this is the one game where you're allowed to without feeling like a dirty n00b. "Dial-a-combo" is different, and not as safe as generic combo stuff in other action games, but has greater output for the player who wants immediate results. Fighting against 1 enemy might either alienate combat-heavy gamers or welcome in people who just want to focus on one dude and have a good time. Maybe I'm one of the fewer gamers who likes timing and rhythm in his combat games. Why is it that I can appreciate a Ninja Gaiden game and still like Prince of Persia's combat? Because they're completely different, and I have time in my brain for both. The combat is more about your relationship with Elika and getting a sweet rhythm than it is with crowd control or just whacking on a dude to get a 20-hit combo so he finally dies. Many times you can kill an enemy with one hit, if you're smart enough.
Finally, the game's non-linear structure. This is more non-linear than a GTA game. GTA is linear in its story, and so are nearly every sandbox game. The only other truly non-linear game I know is Crackdown, and people complained it was too easy for it because you could kill the big bad boss before killing any of his minions. Some people like a linear rollercoaster ride and some people like to dictate their pacing and take their time with sandbox games. "Open world" might be the new buzzword but very few games actually achieve it, because a linear experience is still needed for a story. Now I don't really care when people say the new PoP is too easy, because honestly more people like easy games than a Ninja Gaiden. Everything about the game screams it should be easy; from the magical, uplifting world to healing the land to Elika being a helping hand. Much like any other inviting fantasy game like Okami or Zelda or Shadow of the Colossus. I'm not saying PoP is a cakewalk, unless if all of you have the "Died less than 100 times" achievement. If there was a Game Over screen, you wouldn't be saying the game's easy because it has its challenges.
If this felt like an infomercial for Prince of Persia or Resident Evil 4, I'm sorry, I should stop writing my observations. But I had fun getting this stuff off my chest, and at least it's just a free blog post! :D