This past week, Joystick Tuggers talked about two fighting games that were on opposite ends of the popularity spectrum. We had Killer Instinct, the hottie that literally everyone wants to bone and we had Dual Heroes, that girl that eats the scabs from her scalp. While fighting games are probably the most widely known form of person-on-person action found in the virtual realm (unless you count games made by Mystique), there are others out there that demonstrate just how majestic humans can be. Enter Arm Champs II!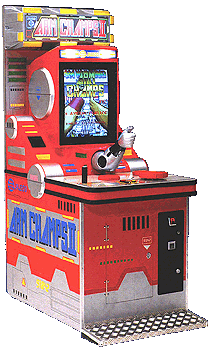 "Why Arm Champs II, Jared? Why not Arm Champs I?" I'll tell you why. First off, I've only played Arm Champs II. Second of all, I'm writing the article, that's why (Boom, Roasted). Arm Champs II came out in 1992 and was released by Jaleco. This game pits you, the muscle-bound, sexy ladiesman who just happens to frequent the local arcades, against the world's greatest Arm Wrestling champions in a tournament that, if won, will bring you fame, fortune, and carpel tunnel.
The gameplay is pretty simple. There's a big plastic arm that sticks out of the front of the machine that looks like it wants to shake hands. Don't be fooled by this seemingly kind gesture. This game wants to make you cry and it wants to break your alone-time arm (Trust me...). There's also an elbow pad for your right arm, so if you lift your arm from the table, you are disqualified. This forces you to cheat by using both arms to pull down on the robo-arm.
There are nine wrist-masters to battle in Arm Champs II. As in any ladder-based game, you start out with the easy opponents and the become progressively more difficult. Your first challenger is Trixie, a Russian bodybuilder (also the only female in the game, because the women watching you play this would not be happy with you holding hands with another girl). You then move up to Chang, a Chinese stereotype, then to Atlas, a Flash-inspired superhero-type. Then to my favorite character in the game, Turk. Turk is described by the reading material from Arm champs II as a "Retired soldier from Egypt". I don't know what it is about Turk,  but he looks really familiar...
After defeating the Iron Sheik, you move onto Duke, an American boxer. Next is a wrestler from England called The Rock, who is in no way Dwayne Johnson. However, the next opponent, Goliath, is a bodybuilder from France and looks a lot like a white Dwayne Johnson. The second to last wrassler is Shibayama, an extremely fat Sumo wrestler hailing from Detroit, Japan (just making sure you were still with me).
Then, the final obstacle standing between you and glory appears. A cyborg from the U.S. named Specks. Specks looks like the guys from Daft Punk mated with Robocop and is twice as powerful (as Robocop, not the mating). He is easily the most difficult (paradox?) to take down, hince the reason he's last. When you do defeat him (usually by having a friend hold the elbow pad down and using both hands to smash him into the ground), you are treated to him exploding, which reveals his mangled human parts underneath, meaning you kill him.
At the very end, you can participate in a strength test, similar to the Street Fighter II car-punchfest stage. this requires you to just push the mechanized arm down as hard as you can without pooping yourself. Points are deducted if you do accidentally soil yourself.
Well dudes and dudettes, that about wraps it up for this week's Bonus Get!!! I hope you enjoyed this article and don't forget to check to check back in a few days for a new episode of Joystick Tuggers. BOOM!
-Jared