Wataahhhhh!
It's no secret that I'm a fairly enthusiastic fan of the martial arts genre of cinema. Typically for me is the general me-ness tendency to love and appreciate all my sub-genre children equally so it's fairly common for me to flit from a fantasy wuxia film, then to a period samurai flick, take in some girls with guns action, and then top it all off with some atypically ultra clean -- and incredibly colorful -- yanggang Chang Cheh type of film. Still maintaining a small degree of humanity buried deep within my mortal shell and after a reasonable amount of experience of dabbling in the genre for a few decades, I must admit to having developed some strong likes and dislikes over the years and boy oh boy have they shifted as time has passed.
Although I do personally have friends that know considerably more than I do, I do think I've gotten enough film time under my belt to have developed a decent knowledge of what's out there. Sure, sure...there still lots to see out there in the big wide world that I know I don't have enough time to watch, that's pretty much par for course in the world of cinema. But since the subject of mostest bestest fights evarrrrrr comes up on a semi-regular basis on chat boards around the net, I thought I'd put in a tiny sample of some of my favorites. If you know me even a wee bit, you probably know that I'm loath to make ranking lists of things especially films and this time it will be no different. They are not in any particular order, and some of these films overall aren't really all that great. But one thing they do share...they have some kind of fighting scene that I really enjoyed. There's always tons that I forget or new ones that I discover on a regular basis. But these are some of the films that immediately spring to mind on that rare occasion that somebody wants my opinion. Here we go!
Oh yeah...click on the pics for the Youtube footage of the fights.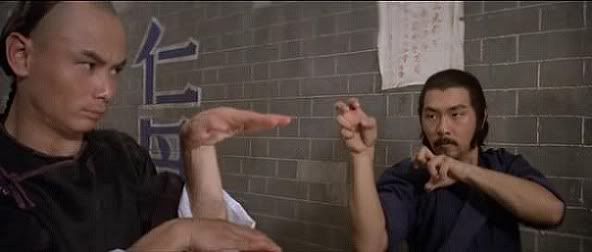 Martial Club (1981)
Gordon Liu vs. Wang Lung Wei

Directed by the great Lau Kar-Leung (Liu Chia-Liang) with action choreography by the same, this is yet another film involving the great martial arts hero Wong Fei Hung played this time by the 2nd greatest film martial artist Gordon Liu (that guy from all those Shaolin films for the uninitiated). Wong Fei Hung is doing his usual wandering around trying to soak up new s+yles to incorporate into his own when he and his opponent are tricked into doing battle with each other at the end of the film. Typical of the way Lau Kar-Leung approaches fight sequences, the combat pushes the story forward and is never there just for show. He also is loath to use wirework so his fights tend to mainly involve quick and precise traditional fighting. Honestly, if I had to pick one fight as my favorite...I would probably go with this one.
Drunken Master 2 (1994)
Jackie Chan vs. Ken Lo
Hey guess what kids? It's another Wong Fei Hung film, this time played with impish vigor by that jack-of-all-martial-trades Jackie Chan. Initially a Lau Kar Leung directed film, he and Jackie had very strong opinions about how to approach the fights and halfway through production Lau left and Jackie took over. The result...MAGIC! I know, that doesn't generally happen but the two worlds of the ultra-realistic clashing with Jackie's over the top shenanigans somehow worked out perfectly as a whole morphing into what is generally considered one of the best martial arts films ever made. Jackie really pushed himself to the limit during this production and it really shows. There are so many great skirmishes in this film that you could show any of them and be happy, but let's just go with the big finish since it's pretty crazy.
Sha Po Lang (AKA Killzone) (2005)
Donnie Yen vs. Jing Wu
Directed by Wilson Yip with action choreography by Donnie Yen, this is the movie in which Donnie Yen really invented the wheel for modern martial arts films. To make a long story short, he began mixing in more realistic moves from the increasingly popular MMA type of fighting with some standard flash for the camera, as well as experimenting with some improvisational bouts and some solid editing. The result was a revolution which launched him into super stardom as Donnie is overwhelmingly considered to be the top movie martial artist currently working. His opponent Jing Wu is perhaps the most physically gifted and talented fighter today who unfortunately winds up in a lot of crap films. But not this time bucko! SPL is a solid movie with some really, REALLY great fights in it. This fatal encounter is one of my favorites despite it not really showcasing the aforementioned MMA s+yle indicated above. Maybe next time?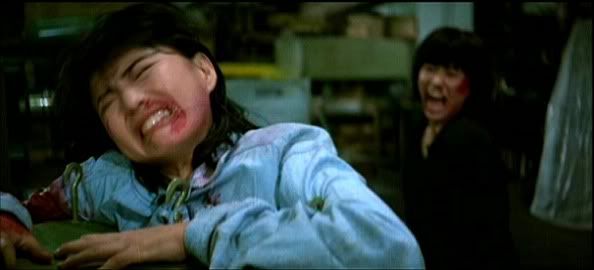 Angel (AKA Iron Angels) (1987)
Yukari Oshima vs. Moon Lee
Ahhhh the warm nasty '80s. The '80s Hong Kong "B" movie territory could be a pretty brutal place and two of the dirtiest fighters in the business were actually two women by the name of Moon Lee and Yukari Oshima. All too often women are not used particularly well in martial arts films and usually they just kind of throw a few awkward kicks and are then rescued by the tougher manly man. Not these two. Their conflicts with each other tended to shed a lot of blood and generally was only resolved by one or both of them dying terribly violent deaths. Angel contains a personal favorite fight of mine which although all too brief, is amazing in its ability to ramp up the violence so quickly. Watch as Yukari Oshima totally ruins Moon Lee's friend with an horribly vicious choke flip!
Shaolin Intruders (1983)
Derek Yee vs. Philip Ko
Shaolin intruders is really a movie that has to be seen to be believed. It's a completely crazy film that uses every approach in the book to choreographing a martial arts fight -- I guess having six action directors will do that sometimes. Besides just having some really crazy reactions to events in the movies from some of the characters, the film throws everything and the kitchen sink into their fights and it shows. A fine example of mixing down to earth fisticuffs, lightning fast weapon work, wire work straying into the fantastic, and piling in some truly physics defying team defense work that really has to be seen to be believed. Philip Ko and Derek Yee really go to town on each other in a film that truly feels it needs to be more of a spectacle than previous Shaolin flicks.
'
Boxer From Shantung (1972)
Chen Kuan Tai vs. Everyone
Hoo boy this one's a doozy. A tragic film in which a superior fighter from the country tries to clean up the gangs and ends up corrupted himself. A truly stunning end fight that, although not technical or stylistic, is amazing just for its sheer unworldly brutality as the protagonist is mortally wounded and yet succeeds in killing an entire room full of people. It's a long clip that I had to attach two bloody videos just so you could watch it, but despite what you might think just keep telling yourself -- "he's going to kill everyone in the room". You might think he's going to die -- many times in fact -- but no...he will keep going until everyone is DEAD! Really epic and bloody carnage here folks.
Edit - The second part has been removed from Youtube unfortunately.
Oh man it was awesome too...he takes down the bloody staircase and collapses the second floor and then rams an axe into the falling mob boss. Good stuff!
Yes, Madam! (1985)
Cynthia Rothrock & Michelle Yeoh vs. Dick Wei & Chung Faat
Ahhhh we're back to the dirty '80s with Michelle Yeoh's first leading role and directed by that madman Corey Yuen. Although fairly cheesy, this film is has those typical early Hong Kong action film moments in which you'll find yourself often wondering..."did that stuntman just die?". Yeoh is teamed up with Cynthia Rothrock and if you've only seen Rothrock's U.S. action films then you're in for something of a surprise as you'll get to see what she can do with a good choreographer. Watch her do the splits going backwards up against a wall!
Fist of Legend (1994)
Jet Li vs. Billy Chow
This remake of a Bruce Lee film was initially met with much animosity in the Asian sector as you just don't remake the movies of a beloved icon like Bruce Lee. After some time has passed and heads cooled down, people realized that the film was actually very good with some great action direction courtesy of the legendary Yuen Woo-ping. Despite Woo-ping's tendency to at times abuse the wire work as it were, in this film he was relatively reserved and typically just used it to enhance the generally down to earth fisticuffs. A pretty solid film overall with a great end fight. The English dub unfortunately had some problems with adding words that weren't there and changing some of the dialogue quite a bit for no discernible reason. Weirdos.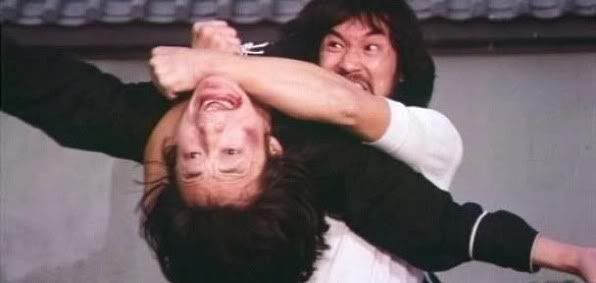 The Victim (1980)
Leung Kar-yan vs. Chang Yi
The Victim is one of those great old school meets the new school type of affairs in which all hell breaks loose. There's so much talent in the action directing department that it's hard to know where to start. Most of it was done by the great Sammo Hung and he really managed to get the actors to push themselves well past their limits. Nowhere is this more obviously displayed then in the final fight with the awesome Leung Kar-yan taking on some minions...and then the dreaded Chang Yi. Really the fight is both brutal and yet beautiful to watch in some of the long sequences of lightly edited hand to hand fighting.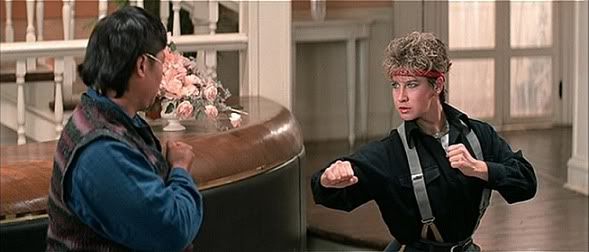 The Millionaires' Express (1986)
Oh just...everybody vs. lots of folks
This is just a fun, fun, fun, kind of film! Sammo Hung thought it would be great if he could get ahold of almost everybody he ever worked with and put them in one big pseudo-western film full of ninjas, confederates, kung fu masters, trains, and lots of guns. This clip is near the end in which everybody from every faction just starts fighting each other for all the different things that they want. Pretty much every person in this film, no matter how small the role, is a martial arts movie celebrity so it's pointless to list them all. Another great use of Miss Rothrock in a short but sweet fight with Sammo Hung and the great Yasuaki Kurata vs. Richard Norton. Oh...also miss Yukari Oshima shows up to kill Richard Norton in just the most awful way possible.