Welcome to The Haul.
So I know I said I'd be cutting back on my purchases, but there have been too many good deals to pass up lately. This Haul is a hefty size, but that's partly due to the Thanksgiving holiday stopping me from receiving a couple of packages that should've made last week's edition. Either way, I got some decent stuff this week.
On another note, I've been playing quite a bit of Professor Layton lately and I am really enjoying it, despite a few quirks.  My biggest problem with it is the repetitive nature of solving all of the puzzles. I love a good brain teaser, but there's nothing else to do in the game. Yes, you're solving several mysteries in the process of playing through the game, but you don't really do anything to solve them; you just progress the story by solving riddles. I still recommend it, but if you dislike puzzles or feel dumb when you can't solve one, then this game is not for you. I'm also a little antsy to finish that game up so I can start another DS game, which you'll see down below...
Shin Megami Tensei: Persona 3 FES Bundle (PS2) - New
Price: $19.99

Location: Amazon.
Comments: I used to be a huge RPG fan and this game has received some amazing marks, piquing my interest. The FES version is bigger and better and this special package comes with the art book and original soundtrack that were released with the game's first run. In case you were wondering, the sleeve case is exactly the same as the one that came with the original release. Also, great price.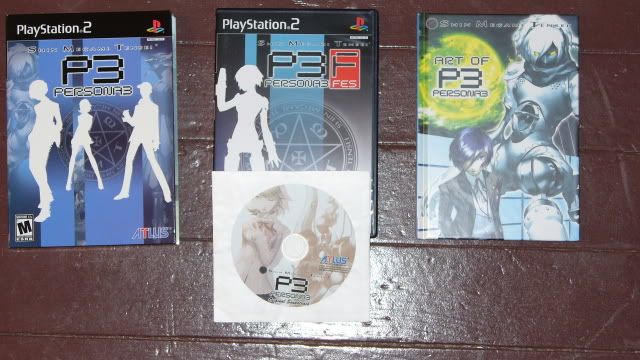 Chrono Trigger (DS) - New
Price: :( ... Still totally worth it.
Location: Amazon.com
Comments: Simply one of the greatest games ever created. I bought this in spite of already owning the original SNES version and the PS version (Final Fantasy Chronicles). I've beaten it more times than I can count and I will beat it again as soon as I finish Professor Layton. I am overjoyed to have this game sitting on my desk. :-D Also, I pre-ordered, so it came with a two track sampler soundtrack.
Prince of Persia Limited Edition (360) - New
Price: :(
Location: Amazon.com
Comments: The game looks great and I wanted the LE, so I pre-ordered. It cost the same amount as the standard version, so it's understandably lacking in extra content. There is a nice sleeve cover and an extra disc containing a documentary and the music of the game.
Ridge Racer 7 (PS3) - New
Price: $9.95
Location: Amazon.com
Comments: Cheap PS3 exclusive. Also, not a bad game.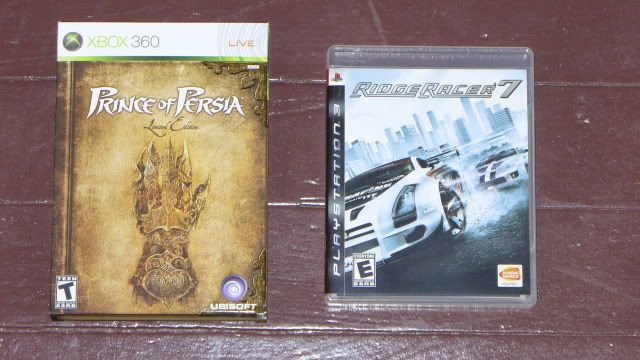 Mortal Kombat vs. DC Universe Kollector's Edition (360)
Price: $44.99
Location: Amazon.com
Comments: I'm not terribly interested in this game, so I was mostly just jumping at the price. I have heard a lot of good things, so I'll probably run through the single player and see how it is, but I don't see it lasting. This "Kollector's Edition" has some of the worst packaging I've ever seen (it's literally falling apart already) and the game disc is in a sleeve with the extras disc, so I can't put it out on my shelf. Also includes a comic book and lithograph.
Recommendation: Do Not Buy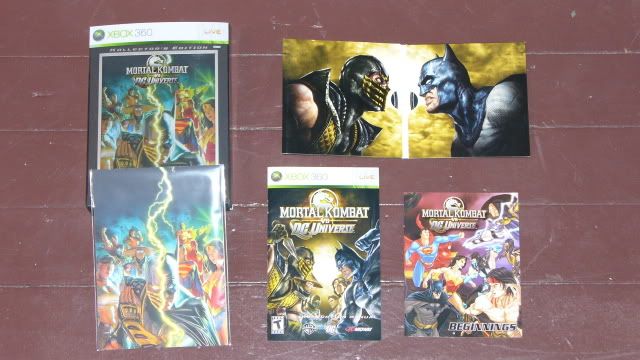 Brothers in Arms: Hell's Highway Limited Edition (360) - New
Price: $29.99
Location: Newegg.com
Comments: This game looks spectacular and I've been waiting for a price drop on the LE for a while now. Includes comic book, map, and Sgt. Matt Baker action figure.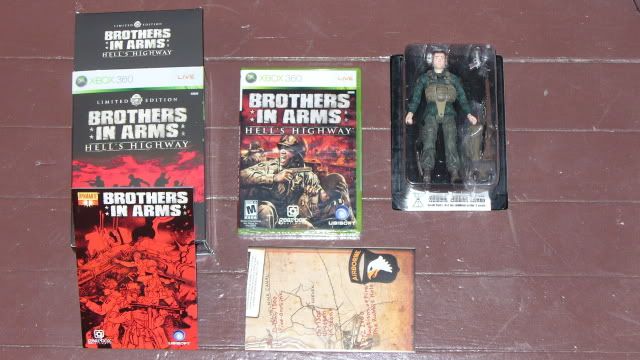 `Nick