Ooph, been a while since I've been on here. Been a busy bee, only a couple days before I get back to UK . In short, USA was awesome. Here's a few things I learned from my roadtrip here.
Don't worry, I'm not so green behind the years, this is probably my 5th time in the USA . First was in 1997 when we came just for DisneyWorld in Florida , and also the amazing World Trade Center . I'll never forget the awesome auditorium where you sit in seats, and watch a movie. Then you realise the seats are all moving, and it's a rollercoaster ride on a helicopter ride through Manhattan ! If any of you remember it from before 2001, tell me. 2nd time we were here in USA, we actually were living for 3 years and I went to middle+high school here in Brownstown, Michigan. I still remember loving the education system here (those GPAs) more than UK , and they'd already be reading more high-level stuff than UK education. 3rd and 4th times were just visits to mostly Canada and Niagara Falls , and my cousins and relatives from Detroit to Baltimore (where I am right now).
Why 11? Because…of some lame Spinal Tap joke. So, let's get on with what I learnt...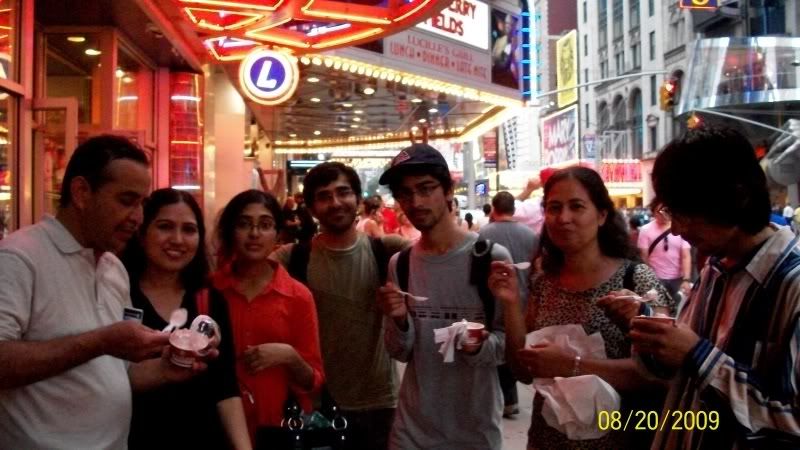 1. NYC people rock! How much? When we went into a subway to figure out if we could get back to our parking place by train and got confused, a random HOBO came up to us. Out of his own selfless heart, helped us even when we didn't ask. NYC has the most friendly people I've ever met. There's the stereotype in media that New Yorkers are rude, short-tempered, and basically a lot like my Pakistani people. Couldn't be further from the truth. These New York City people are the nicest people ever; they'll actively help you out and ask how you're doing if you're lost or look confused. These people are more polite and friendly than British people!
So next time you go to a foreign city and want to measure how friendly the folk are, see how many random people will help you without your provocation.
2. NYC or Manhattan is just like London . NYC is exactly a little brother of London in UK . Same kind of narrow alleys, gothic architecture, no parking places, Times Square is just like Piccadilly Circus , buses everywhere.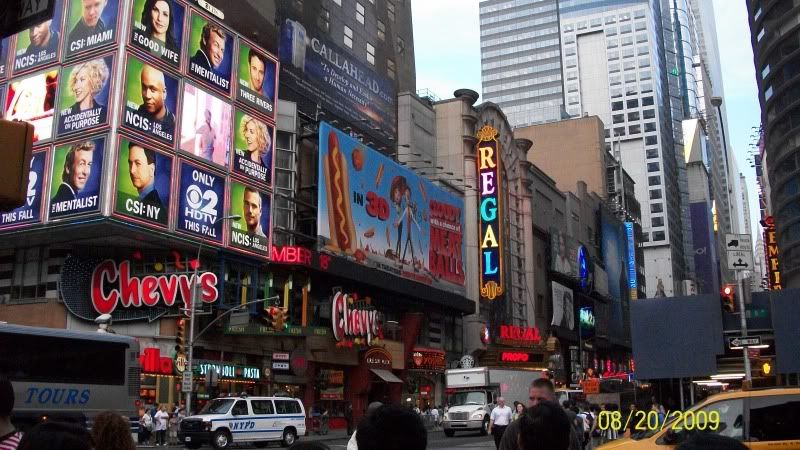 3. NYC, the city, sucks! It's a disaster of logistics. You'd think for being a little brother to London, they'd copy the great things we Londoners have. NYC has the worst public transportation for a metropolitan city I've ever come across. The Metro maps are a terrible mess, and makes me ache for London Underground maps. The subway is not that terrible, and the only saving grace it has over London underground is...AIR CONDITIONING! It's a huge advantage when you've been walking for 2 hours, and are sweating like hell. But the bus system is absolutely horrid.
Worst part? Most Yankees don't even know that much about the buses! Bus stops are very vague and hard to find. Nothing is told on the bus stops in terms of useful info. I know, it's crazy! Very rarely do you get to see the bus stops for the buses, and their routes, but nothing to the level that London bus stops have.
Moving around NYC is a pain and a half. Every part of NYC is badly organised. Road construction and blocked roads are everywhere. It has congested traffic just like London . We just wanted to get from Times Square back to near Union Square where the Statue of Liberty was, because we parked our car all the way down there. And it took us nearly 3 hours of walking, going from buses, and subway trains, and more walking. This was in the dead of the night. We walked so much into road construction and dead ends, that we even got to see GROUND ZERO! And I didn't even want to see the sorry mess of a state that the WTC was now in. :(
4. NYC still has awesome places to go to, like the Statue of Liberty tour. Times Square . Central Park .Too bad we didn't get to go to Little Italy or Chinatown , because we were already having so much trouble moving around in this damn city!
(video) The other videos I have are for the other states ( Michigan fishing; Missouri caves).
5. All of America is homogenised. You go from state to state, and everything looks the same. This is also true for England in some cases with the villages. Pennsylvania , Ohio , Missouri , or any other state we went through in the way had very similar landmarks and town structure. I'm guessing this is to make any n00b comfortable with no change. But jeez, it's freaky!
6. The HEALTH CRAZE hasn't even started here yet! While it's going insane over in UK with the Jamie Oliver, 5-a-day, and other government schemes to cut down on fast food and other bad routines, it's barely touched down over here. You go to a McDonald's or Burger King and there are no healthy options sticking out, no nutrition charts on the back of your fries box. It's just weird, considering this is the fattest nation in the whole universe. They gotta start from school dinners, and ban that Cheezits/Cheesasaurus Rex garbage!
7. Everything here is SUPER SIZE. I guess the documentary's name, "Super Size Me" was pretty apt. I'm not talking fast food. I'm talking ketchup bottles. Orange juice. Everything, except my favourite, apple juice. Why do you forsake me, SUPER SIZE AMERICA?!
8. Disney and Nickelodeon made a big mistake by abandoning great 2D cartoons in favour of  brainwashing kids with live-action tweenie shows. Disney is especially creepy. That Hannah Montana show's premise is more complicated than Nolan's "Memento"! She plays herself in real life (Miley Cyrus), and her music producer dad is himself, but she has an alter ego who's a pop diva called Hannah Montana. Some of these shows are just soap operas for kids, so when they grow up, they rot their brains further with reality shows! The worst part? Most of the child actors in these shows won't ever become real actors/actresses, considering their conservative fanbase and bad acting. Nickelodeon ain't that bad. The only show I've grown to like here is, "iCarly" from Nick. The main character is a smilebag, and the laugh reels are so obviously faked. But the show has 2 things right. There are no parent actors, and there is no obvious romance drama or other gooey relationship drivel. And that whenever the "Spencer" character comes on, he steals the show. Ok, I've already said enough about this show, movin' on…
9. Dude, there are SUVs, EVERYWHERE here! You know how 4-wheelers and SUVs are despised all across the world for their carbon-mudering, fuel-guzzling needs? Yeah well, America throws morality and ethics out the window with their cars! :D It's like that Simpsons Krusty ad for CANYONERO !
10. America has no problem providing you with cool vistas and unmanned beauty. We've been to so many cool places in each of the 4 states we've been through ( Michigan , Missouri , Maryland , and NYC). Like the Meramec Caverns in Missouri where you go into a really cool underground cave system where Jesse James hid out apparently. Missouri also had this Arch monument with a ride in an egg, but the view from up top was kind of lame. Michigan had tons of awesome lakes and we went fishing, catching our own fish. Of course we went to the Henry Ford museum, considering Detroit is where the E3 of cars happens. We even stopped at Springfield to check out Abe Lincoln's house and learn about him. Maryland is actually pretty barebones, so no crazy places there except for many parks. I can't wait to edit my footage from the locations I just mentioned into a bad music video thingamajig!
11. I'm more American than I care to admit! Well ok, not in terms of being a walking ad, or being obese, or loving capitalism. I love the lingo though, like "awesome", "dude", and "sucks". I'm pretty proud that my American accent has stayed. You don't know how awkward I would feel if I retained my British accent from when I was born…
There you go! Next time I'll talk about the roadtrip would just to upload links to photos and videos from other places in our USA roadtrip. If you want to see all 257(!) of my New York City pictures, head on over here.