I'm sure there are people here who collects figures - whether they're game pre-order collectibles or published sculptures by well-known manufacturers like Kotobukiya or Alter. I'm one of those people of course, although I wish I can say that my collection is impressive, only it's not really. One issue is shelf/desk space, because not only do you need to plan where your figures go, the box it came with also needs to be stored somewhere.
Anyway here are some of the figures I have currently.
Gwendolyn SIF EX, Odin Sphere - 1/6 Yamato
Without a doubt one of the prettiest figure to ever sit on my desk. Do you see the details gone into making her?!

Didn't expect her corset-dress (?) to be grey-ish/off-white
Was kinda scared I'll bend her right semi-closed hands out of shape when trying to slide in her staff

Surprised this hasn't been out of stock yet considering all other characters (Mercedes and Velvet) are OOS
Even more surprised at how... normally priced it was. I got it for under US$100 which was a STEAL.
Luka Megurine Tony Ver., Vocaloid - 1/7 Max Factory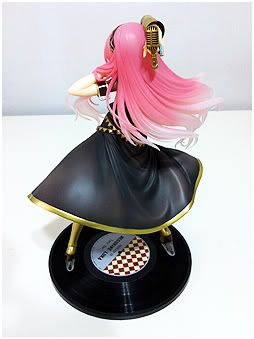 Recently released in late July 2012 and I nearly missed the pre-order, phew

Most eye-catching detail is her hair - the pink recedes to a more translucent colour
Base is pleasantly detailed and appropriate - she is a personified music synthesizer software after all
However, was expecting her dress to be black, not dark brown. Just a minor surprise.
Her box has an annoying, tightly-wounded wire you gotta remove

Tear Grants, Tales of the Abyss - 1/7 Milestone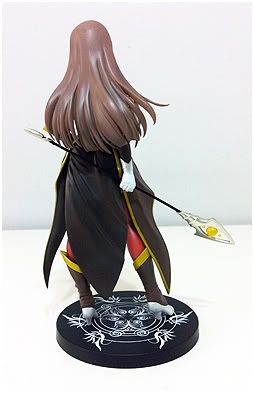 First thought - OMGAH brown!
Honestly I only bought her because I like her character design, and I barely played the game
Her staff has a tendency to slide down if you knock into her
Not much to gush about her. She's simple and pretty.
Anyone can tell me the significance of the detail on the base? Or is it just a random design?

Oh, her box is super ugly

Emma Frost Marvel Bishoujo (Diamond Ver.), X-Men - 1/8 Kotobukiya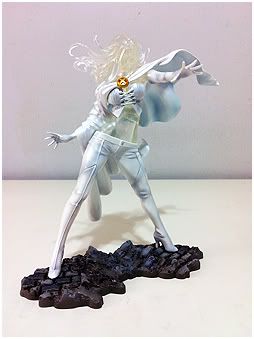 EMMA FROST!
IN DIAMOND FORM!
On a serious note, I'm not too fond of the Kotobukiya Bishoujo series given that their faces are usually dopey-looking (I'm looking at you X-23!). But since you can barely see her face in this, I got it.

Her stance and billowing cloak is, you gotta admit, epic
The middle part of the base bugs me though. It looks odd in close-up.
Many complained about the weird line INSIDE her stomach region, but it doesn't bother me too much.
Also, got it for DIRT CHEAP from AmiAmi. Dude, 76% OFF. US$19.

Hirasawa Yui (Maid Ver.), K-ON! - Banpresto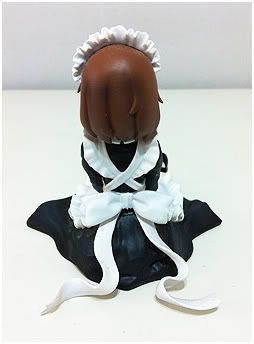 I honestly can't recall why I got her. I'm not that fond of maid costumes, really.
But, it's Yui! One of the few ditzy characters I actually like from an awesome anime/manga series
Surprisingly detailed for something so cheap. I like the flow of her ribbon at the back
... Why are her hands super yellow though? I'd like to imagine it as her having yellow rubber gloves on but... it's not working.

Black Rock Shooter / Dead Master Nendoroid, Black Rock Shooter - Good Smile Company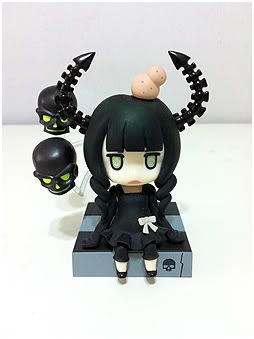 Awww aren't they cute? Nendoroids are too adorable.

Black Rock Shooter OVA = boring as heck. But the art style is super.
Dead Master > Black Rock Shooter. I SAID IT!

Their heads are slightly heavy so if you're planning on having them in this particular stance style, be careful
I don't like their other stance styles because they're pfft boring
I put them side-by-side by the way, because aww cute!

Luka Megurine (Toeto Ver. Soft Vinyl), Vocaloid - Good Smile Company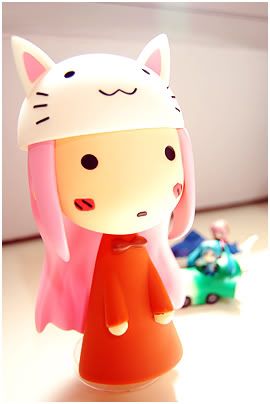 Toeto is like, the shy version of Luka
E-eto... eto.... eto... .. . . .

Well say "eto" repeatedly and you come about her name
This is her song by the way, which is cute and sad at the same time :\

Aside from being adorably... adorable, the figure frustratingly leans slightly to the side because her base is some POS plastic
I got the last Toeto figure from Play-Asia bwahaha!

Luka Megurine Figma, Vocaloid - Max Factory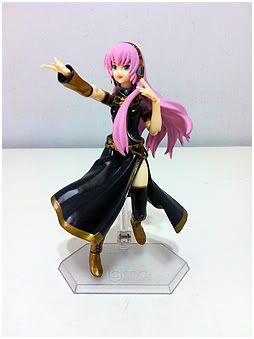 Can anyone tell that Luka is my favourite Vocaloid?
Sadly, this will be my first and last Figma because I hate "action-figure style" figures i.e. ones with joints
I got this because this is the only Luka figurine with her tuna
UNFORTUNATELY, that damn tuna can't stay in her hands without toppling off so I gave up and she's in this boring pose
):
Her black dress is an insane dust catcher ))):

I still love Luka though

Miscellaneous, Vocaloid / K-ON!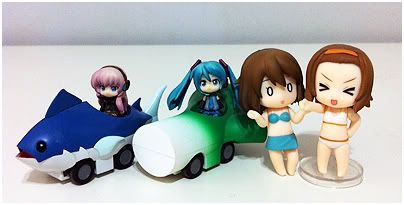 These were all gotten because I needed a few more dollars to qualify for free shipping on Play-Asia

Luka in a tuna car! Hahaha!

I did not intend to get Yui and Ritsu in swimwear because they were shipped randomly
Yui doesn't have a base because hers couldn't fit and I threw it away in a fit of rage >.>

PRE-ORDER - Momohime, Oboro Muramasa (re-issue) - 1/8 Alter
I dare you to say that this isn't a beautiful figure. The colours are spectacular. D:<

I had the chance to buy her back when she was first released, but my weird rationale was that since I didn't play the game, I shouldn't get it
I hate my past self for that

Thankfully, they're re-issuing this and I pre-ordered it the first day it was put up
November release

PRE-ORDER - Ryougi Shiki, Kara no Kyoukai (re-issue) - 1/7 Good Smile Company
I have no idea who Ryougi Shiki is
Nor what Kara no Kyoukai is about
The fact that it's a re-issue means it's a popular model thus, I want it

But seriously, her kimono is gorgeous with the subtle designs, and her whole stance is serene despite that blade in her hand
November release as well, and more anticipated out of the 2 pre-orders

PRE-ORDER - Velvet SIF EX, Odin Sphere (re-issue) - Yamato

I'm insanely happy this is getting a re-issue
I need to stop buying figures that show off skin :\
My most expensive purchase to date

December release

Ugh trying to format this is a damn nightmare. My lines are all gone. I'll edit this whenever I can. Anyway:

Feel free to share your figure collections. Collectibles work too!
Any anticipated pre-orders or upcoming models?
Any figure that you're hoping to get?
What's your limit to how much you're willing to spend on a single figure?