I recently played the Source mod 'The Stanley Parable' and now feel inspired to write a lot about it.   However, if you are reading this and have not played it then I strongly urge you to do so now with as little extra information as possible and come back later to read my thoughts if you really want to.   It calls itself an "experimental narrative-driven first person game" which is accurate and it's a fairly short experience.   If you need a slight bit more inducement to play then I am willing to call it the best mod I've ever played and am seriously contemplating how far up the best games I've ever played list I could rank it while still being able to argue my sanity.   However, I'm willing to concede that many would not apply so many superlatives to it as I am doing but might settle for describing it as 'pretty neat' ... yet that's still pretty good.   So, if you haven't yet gone off to play The Stanley Parable here's your last link and now I will indeed try to argue my sanity for rating it so highly.
This is all complete spoilers from now on so I should probably mention even if you have played through The Stanley Parable that there are five (edit: actually six - I missed one myself and will update this blog later when I get the chance) completely different endings.   If that fact evoked any amount of surprise and curiousity in you then maybe you want to go back to try and find those other endings.   I also hear they are findable on Youtube as you might expect.
My original playthrough
So what did you do on your first playthrough?   I followed diligently along with exactly what the narrator was telling me I would do, partly because of my deep-seated respect for authority and partly because seeing where the game apparently wanted to lead me seemed the most likely way of getting what I was 'supposed to' out of the game compared to the alternatives (as far as I could make out at the time).   Also, I had no objection to doing anything the narrator was telling me that I 'would do' in advance of me doing so.   That necessary weird turn of phrase throws up what's strange about the use of the narrator in The Stanley Parable since the narrator normally (thought not always) pre-empts what the player is about do.   An (almost too convenient) counterpoint to this is Bastion whose narrator in what I've seen of the game always reacts to what the player is doing rather than pushing the player along ........ hang on....   scratch that stuff about "pre-empting" the player.   You see, I just replayed the game to check that what I was saying was true and that actually isn't ... necessarily ... and this in itself throws up the problems of interactivity and guiding the player that The Stanley Parable is trying to address.   During my first and every subsequent playthrough, save for this last one, I waited when I got to the first choice of 2 doors with no way of knowing which to choose and got the dissonant narration telling me what I was going to do in advance of doing it.  But it doesn't have to be that way.   You can just wander through the doors and the narration keeps pace by describing what you just did smoothly, which is what the narrator wants you to do.   Yet games are interactive and when presented with the opportunity to exercise choice, even if that choice is momentarily waiting to make a decision, it can completely muck up the intended game narrative and player experience – something I've experienced myself and was just telling another GB user about recently regarding the ending of Far Cry 2 (I may paste that anecdote into the comments).   So the Stanley narrator seems to take no chances by narrating the desired story anyway to coax the players along, so hell-bent is it on making sure it takes place as planned.
Game designer's guilt
This brings me to what my own main thread of thought in the back end of that first obedient playthrough was.   I'm designing a mod myself which has recently shifted my perspective closer to that of a designer and so it was in this case that I was feeling guilty while playing along.   Guilty that I too desire to manipulate the emotions and attentions of players by perfectly cued moments, and yes, the moment when that spark comes down from the generator was perfectly cued.   I didn't need the narrator to prompt me first for my head to be raised inexorably upwards in that case.   The subtle manipulation of it all.   This is what game designers strive for and yet as I played along I felt slightly dirty for wishing to control players according to my will; tricking them into thinking that my will is their own.   I don't know if this was one of the intended motivations of the author, Davey Wreden.   I do know it wasn't the only one because The Stanley Parable does many things which I only appreciated upon replaying it again and again and teasing out all its different endings.
My reading of the design of all the routes through the game is that each one is intended to be tailored to the type of person that the creator guessed/intuited would take that route and they each get their own little satisfying story with which they feel justified in the assumptions they made towards the narrator while all their stories ostensibly end in failure.   If this theory is correct then each binary decision acts as a filter until distinct categories of people have been directed onto different paths like a flowchart and can then be subjected to their personal ending.   It really is very clever.   Here's my guessing and naming of the types of people that might reach the different endings The Stanley Parable; the assumptions I think they make about the narrator and then how the ending is tailored to suit those assumptions.
Which ending?

Decisions made
Character of player
Player view of narrator
Validation/failure in ending
'My/your way'
left door – yes
upstairs – yes
generator off – yes
  Obedient (as discussed above)
Can be (might as well be) trusted

  The narrator could indeed be trusted since it allowed the player to succeed but player is acutely aware that their freedom was at the ironic cost of doing exactly what the narrator said.
"Then he pushed a button"
left door – no
lift up – no
 Willfully disobedient/contrary

Shouldn't be trusted.  Try to fight.

The narrator breaks the 4th wall and reveals himself to be an antagonist who ultimately just nullifies the player's choices by 'restarting' the game in a cutscene and then describing the player's death (and boredom) as a result of never having chosen to escape.

'The other narrator'
left door – no
lift up – yes
Tries disobedience then stops caring (perceives meta nature of game)

Distrust.  Can't beat it (that's the game's intention).

The narrator reveals himself to be an antagonist but ultimately as the appearance of a further external voice (narrator) reveals, there was no way to win as intended by the game's design and indeed the player doesn't as ended by themselves.

'Mariella/Amelie'
left door – yes
upstairs – no
Reflective - after initial trust, questions the nature of their surroundings in the game

Starts to doubt and question why there is one.

The narrator starts a meta-commentary of the game showing it was right to question such things.  Player character dies while being reflected on themselves by newly introduced character Mariella (ala Amelie?).

'Self destruct sequence'
lift door – yes
upstairs – yes
generator off – no
Final act of disobedience once a more game-y environment is revealed

Goes along with it but never trusts. Needs to know what happens if they rebel.

The narrator was the secret antagonist as they were the one that killed all the other employees all along but ultimately there's no way of escaping (even by pressing buttons!).

 
I'm more convinced by some of those theories and characterisations than others but generally most seem to make sense to me.  What do the rest of you think who've played it?  I'm particularly interested if you chose one of the other routes first as I think that's the only real way to know whether those characterisations described how you were thinking and if you think the game was successful in how it responded to you and the ending it presented.  Did you indeed feel validated by the views you held to get to the ending?  Maybe I'm wrong of course, maybe none of the endings are suppose to give a validation to the player and all are meant intentionally expose (or expose anyway unintentionally) the flaws of using a narrator or just more generally having a game try to track the underlying reasoning behind why players take the decisions that they do.  Either of these outcomes is valuable and The Stanley Parable provides insight into these issues.
 
A few other random scraps of wondering and pondering:  I named the 'reflective' ending with a reference to 'Amelie' (the film) because the style and nature of what the narrator said voicing the internal monologue of a reflective young women immediately made me think of Amelie.  I am going mad here or did that immediately stand out to anyone else?  Also a comment based on the narration of the willfully disobedient ending which says something along the lines of: if the option (that had been provided by the narrator) was taken away for Stanley to escape then does he have any reason to exist at all, given that he is then then just constantly pressing buttons?  This probably refers to a lot of things but I wondered if one angle was of the narrator again embodying game designers with the parable being that a game cannot work if a player willfully works against the game that has been designed in which case there's no point in playing it all.  Therefore the take home message being that the game designer needs to respect the player and the player needs to accept that they need to work within the confines of the designed game in order to have something worthwhile to do in the first place.  I don't know though, that works in my head but ultimately seems a bit obscure to be one of the main intended messages of the game.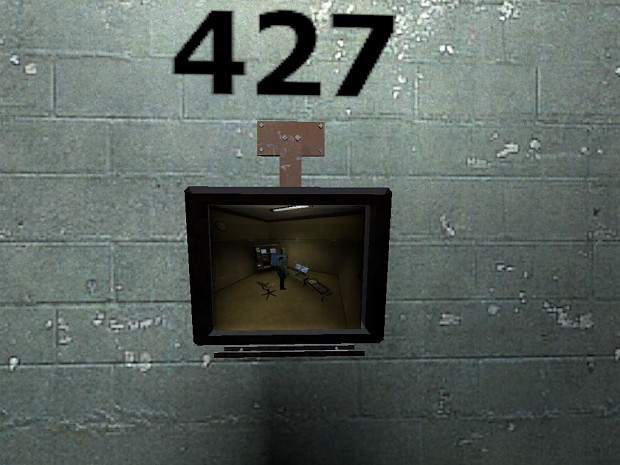 Implementation
Ok, enough about trying to decipher the message of the game.  That's not the only thing that makes this game stand out - it's been built really well too.  I already stated how I'm impressed by how there's a number of unique endings and that every one, I think, is pleasingly satisfying.  Well that's made possible by the impressive pacing of the game.  It hits its beats really well and uses the right music in the right places.  That's the thing, the endings that end abruptly and silently (one without credits and just a blank screen) make sense in terms of the tone of the rest of the playthrough and the ones that end with music leave you in exactly the right frame of mind at the end even when there's a bit of irony involved ... I chuckled when I recognised it was Frank SInatra's 'My way' playing at the end of my original playthrough.  It wasn't the only time this mod got a laugh out of me either: being dumped unceremoniously in front of the red door again; having the countdown self-destruct sequence start up; a 2nd female narrator coming out of nowhere; and of course the gentle chiding of the main narrator when disobeying him - I was thoroughly entertained when exploring the multiple ways through it.  Of course, the main narrator's voice performance is a star of the show here - it's amazing I've written so much without mentioning it so far because it really does make everything else work and breathes an awful lot of life into the whole endeavour.  I'd have to count it as ranking above Dear Esther as the best voice acting I've heard in a mod (although admittedly this narrator has a greater variety of tone and personality to work with in their script).  I also have a soft spot for the seeming similarity in style with Peter Cook's voice as The Book in the Hitch-hiker's Guide to the Galaxy original radio play which I listened to ardently for a period while younger.
 

Greater relevance?

Finally, I just wanted to comment that I really think The Stanley Parable might be something special when looking at interactive media as a whole.  I can't think of another game that achieves the same level of having a meaningful and thoughtful story/message while maintaining conciseness, immediacy, entertainment and polish, all of which creates approachability.  I can think of Passage maybe and from more mainstream games Portal makes a case, but even that with it's relative brevity is filled with a ton of puzzles that people outside of gaming would struggle to get through to appreciate and digest the interesting story and twist behind it.  It still doesn't have the immediacy of interest to grab someone unused to the gaming scene.  What I'm saying is, I think this is a great game to hold up to those who have never touched a game before -  not only does it work well as a game in its own right but it is a commentary on some of the key issues in the interactive medium and can introduce people to these.  I'm already plotting in my mind about finding the opportunity to introduce non-gamer friends to The Stanley Parable because I really think they'll get something out of it.
 
Maybe I'm over-reacting and over-hyping this and will wake up in a few days or hear some comments somewhere and will realise this isn't such a big deal, but I dunno, I think this game might be ... time will tell.