Last time on Dragon Ball Z: Ashuku, my cousin, gives me a bunch of spare computer parts. We put it all together but we end up messing my current HDD up trying to re-install Windows on it and doing it wrong. I eventually get a new HDD. Computer works fine for a while until summer rolls in and on a particularly hot day it bluescreens. From here on out, the PC continues to blue screen whenever the room temperature gets over 70 degress (farhenheit). Slowly, over a year, I replaced every component in the PC one at a time trying to fix it. Two PSUs, new RAM, new videocard, and a new motherboard later, here we are. Going down the list all that was left was the HDD an the processor.

Which brings us to today, when I spent five hours staring at this screen:




Western Digital's HDD transfer software. Five hours is a long time. How did I kill the time? Well, I played a lot of Mario Kart DS: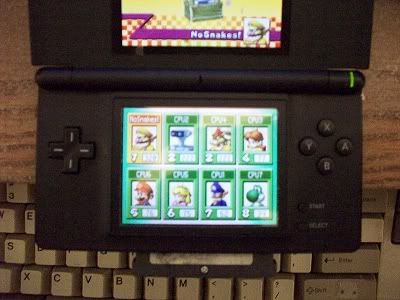 A lot. I dunno if you can tell, but that's me in the first place spot there, with 320 points. There are 32 tracks in Mario Kart DS and you get ten points for winning first place in each race. For those bad at math, that means I got first place in every track in the game in one gigantic marathon. And that only took two hours. The remaining three hours were spent goofing around in the singleplayer mode for Ashuku's copy of Advance Wars: Days of Ruin and listening to the episode of Retronauts about Virtual On and Klonoa.

To make a long story less long, though, basically, it would seem that the HDD was the faulty component because it's been like 90 degrees here today and it's been smooth sailing all day long. Hooray for technology!